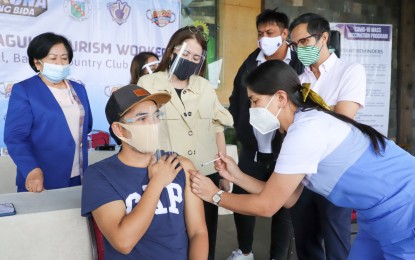 BAGUIO CITY – About 7,510 tourism workers in this city have been vaccinated against the coronavirus disease 2019 (Covid-19), exceeding the target of almost 6,000 workers.
Tourism Secretary Bernadette Romulo-Puyat attended the three-day ceremonial vaccination program from Aug. 31 to Sept. 1 for employees of accommodation establishments, restaurants, academe and schools, as well as media practitioners, artists, and members of various community-based tourism organizations, specialized tourism product providers, and tourism-related/oriented individuals and establishments.
"The vaccination of our tourism workers will add another layer of protection for guests and staff, on top of continued adherence to health and safety protocols. With the increased confidence of people to travel, we hope to sustain the gradual growth of tourism that was started when Baguio was first reopened last October," Romulo-Puyat said in a news release.
Also in attendance were National Task Force Against Covid-19 (NTF) deputy chief implementer Sec. Vince Dizon, Baguio City Vice Mayor Faustino Olowan and Gladys Vergara of the Baguio Tourism Council (BTC).
The event was spearheaded by the DOT-CAR, BTC, Hotel and Restaurant Association of Baguio, and Baguio Country Club.
Puyat also served as the guest of honor during the opening of Baguio City's 112th Charter anniversary celebration on the same day.
"I wish to congratulate the city officials and staff, for organizing yet another remarkable celebration that will showcase projects and endeavors for the development of the City. While the world continues to battle with the Covid-19 pandemic, let us keep moving forward and create innovative solutions that would transcend our current challenges and limitations," she said. (PR)