5G connectivity is starting to arrive in budget smartphones, and just a few weeks into 2023, we're already introduced to a couple of them. One is the OPPO A78 5G, while the other is the Samsung Galaxy A14 5G, both powered by the MediaTek Dimensity 700 chipset. The latter has already arrived in the Philippines, but if the former launches here, which one looks better on paper? Find out in this comparison.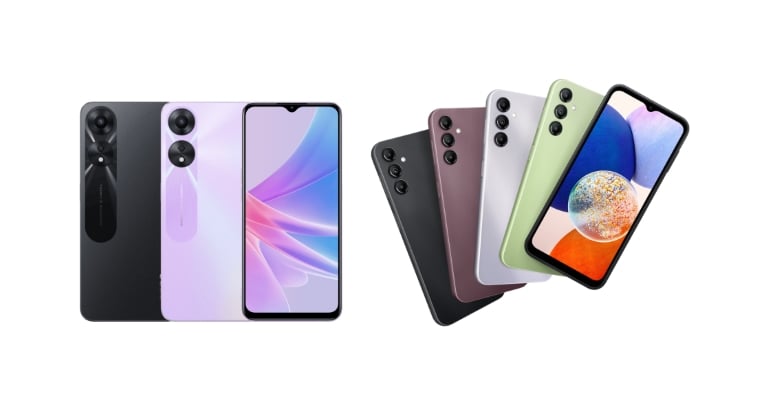 Display
The two devices almost have the same screen size of 6.6 inches. However, the OPPO A78 5G has a lower HD+ resolution at 269ppi, whereas the Samsung Galaxy A14 5G has Full HD+ at 400ppi. The two also have different panels used with the OPPO having IPS, while the Samsung has PLS, which provides increased brightness. Both also have 90Hz refresh rates for smooth animations and transitions. However, the A78 has Panda Glass for extra screen protection.
Chipset
Both are powered by the MediaTek Dimensity 700 chipset which was introduced in 2020. It's a 7nm chip with an octa-core CPU and Mali-G57 MC2 GPU and is designed to bring 5G connectivity to mass-market smartphones. One popular model is the POCO M4 5G. You can expect said devices to get AnTuTu v9 scores of about 299K.
Memory & Storage
OPPO has an advantage when it comes to RAM at 8GB. It also supports the Extended RAM function of up to an additional 8GB. Samsung, however, has a lower 6GB, but still good for its class. Storage-wise, OPPO has 128GB UFS 2.2, while Samsung also has 128GB but with an unspecified type. Both also have microSD card slots.

Cameras
The Samsung Galaxy A14 has some advantages over the OPPO A78 in terms of cameras. Although both have 50MP main and 2MP depth, the Galaxy A14 has an extra 2MP macro. It also has a higher resolution front camera at 13MP, versus the A78's 8MP.
Other features
Both have 5G, WiFi 6, NFC, and GNSS. However, OPPO has an updated Bluetooth 5.3 (versus the A14's Bluetooth 5.2). It also has stereo speakers and IPX4 water resistance which users will like. Software-wise, the A14 has an updated Android 13 versus the A78's Android 12.
Battery
When it comes to battery capacity, both have 5,000mAh, making them good daily drivers. However, the A78 is more attractive with a faster 33W.
Which one to get?
Samsung has already released the Galaxy A14 5G in the Philippines for PHP 12,990, while OPPO is yet to announce if the OPPO A78 5G will launch here as well. But given the price in Malaysia, it converts to almost PHP 14K.
If you're on a budget and you need a higher screen resolution, more cameras, a higher front camera resolution, and Android 13, the Samsung Galaxy A14 5G is a good choice, but if you want Panda Glass, stereo speakers, IPX4 water resistance and 33W fast charging, go for the OPPO A78 5G.