Do you remember years back when tablets were just considered as entertainment devices used for games and watching videos? Nowadays, we can use tablets for other scenarios like graphics design and online learning. Moreover, more powerful tablet models are even used for other productivity tasks thanks to stylus and keyboards. One tablet that caught our attention is the Huawei MatePad Pro 12.6, which we think is a powerful mobile office. Read on to find out why.
Large 12.6-inch OLED FullView Display
One of the reasons why older tablets are difficult to use as a productivity device is their relatively small screens. Back then, they sport screens of around 7-inches, which is larger than most smartphone screens, but they're not large enough multitasking.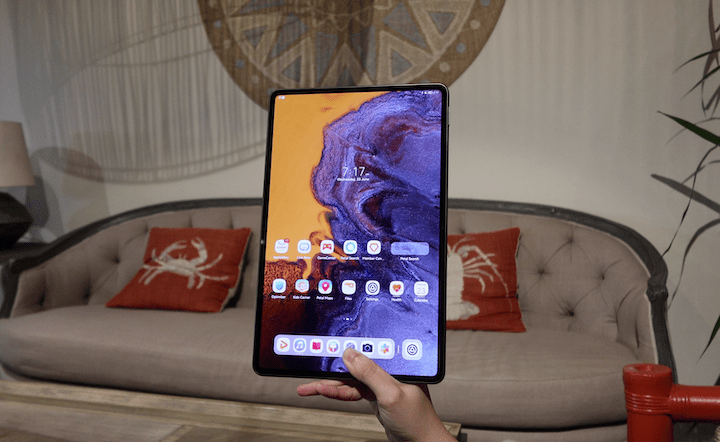 "Pro" tablets nowadays pack significantly larger screens. In the case of the Huawei MatePad Pro 12.6, it has a 12.6-inch OLED FullVIew Display with a resolution of 2560 x 1600. That's like a small ultrabook with a hi-res screen. It's also more immersive thanks to the slim bezels resulting in an attractive screen-to-body ratio of approximately 90%, one of the highest available on a tablet. What this means is that you have plenty of space to work on and less distraction from the bezels.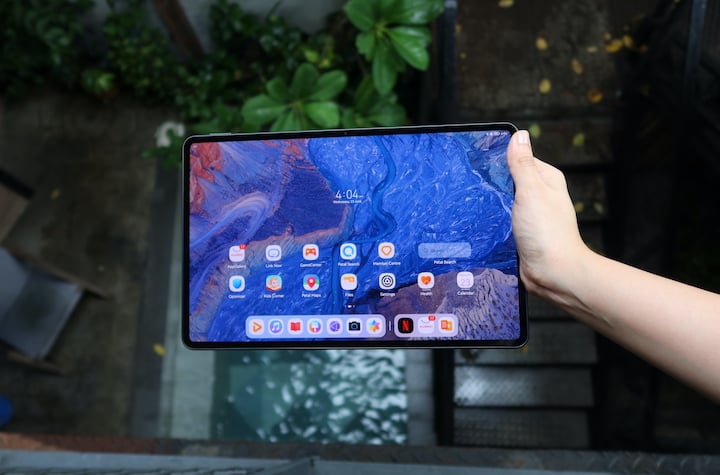 It also has a wide DCI-P3 color gamut and a high contrast ratio of 1,000,000:1, a treat for creatives who do graphics design and photo editing. Those who need to browse the web or work on articles over long periods will find the screen more comfortable to look at with its hardware-level low blue light eye protection with TÜV Rheinland Full Care Display 2.0 certification.
Ultraportable design
Most of us prefer working on a laptop. However, depending on the type of laptop that you have, carrying it around and working in limited spaces can be an issue. What makes working on a tablet like the MatePad Pro 12.6 is its thin and light design. It only weighs 609g and measures 6.7mm thin, thinner than most smartphones.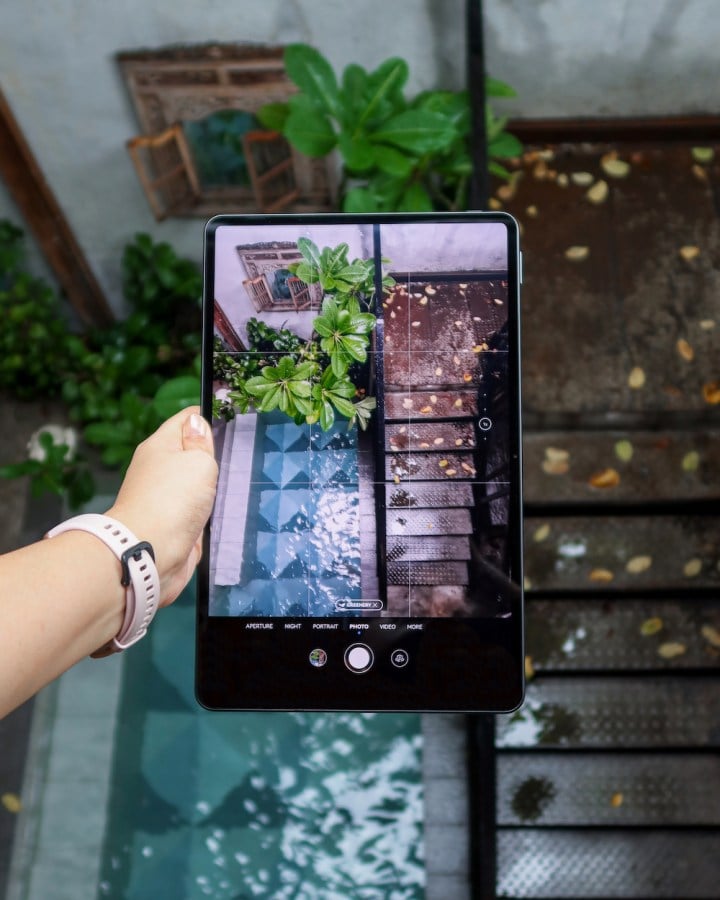 Given its weight and dimensions, you can easily carry it around, hold it with one hand, or put it in a bag when you got to go. And when it's time to put it to use, you can easily find a place for it because of the small footprint, even with the Huawei Smart Magnetic Keyboard attached.
Smart Magnetic Keyboard and M-Pencil (2nd-gen)
These are the accessories that make the MatePad Pro 12.6 great as a mobile office. The Huawei Smart Magnetic Keyboard is a full-size keyboard that supports wireless charging and Bluetooth connections.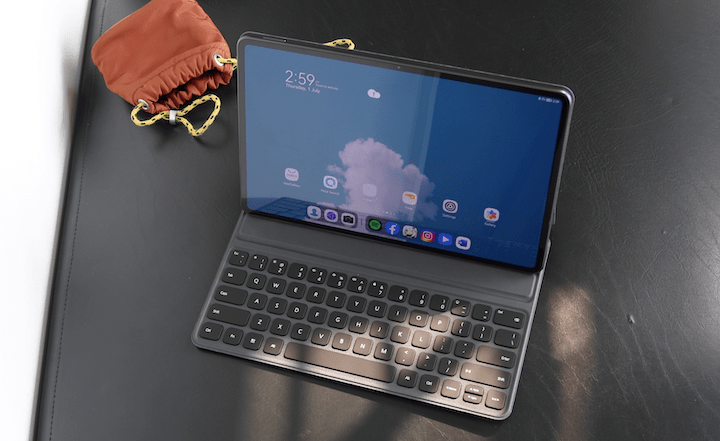 All you need to do is attach the MatePad Pro 12.6, and it will be secured in place with powerful magnets. It's made of light, durable PU material has 1.3mm key travel, supports PC-like shortcuts, and can instantly wake the tablet when the keyboard case is opened or put to sleep when closed.
Those who like sketch, design, or take notes will definitely enjoy the Huawei M-Pencil (2nd-gen). It features a transparent tip design with a platinum-coated nib, so it smoothly yet accurately slides on the MatePad Pro 12.6's screen. It also has a rounded hexagonal shape, so it's more comfortable to hold. It also supports 4,096 levels of pressure sensitivity and 9ms latency, something digital artists will definitely appreciate.
Huawei also equipped the M-Pen with additional features like the 360-degree concealed touch key, so you can double-tap on the M-Pencil to switch between brush and eraser. It also attaches to the MatePad Pro 12.6 magnetically and charges wirelessly. Once full, it can go for 10 hours straight before you need to charge it again.
Harman Kardon speakers
Given its large and immersive display, we expect the MatePad Pro 12.6 to have great speakers. And it didn't disappoint with its eight Harman Kardon speakers blasting high-quality audio on the left and right-hand sides of the tablet. This is great news for those who expect better audio as most tablets only have four speakers.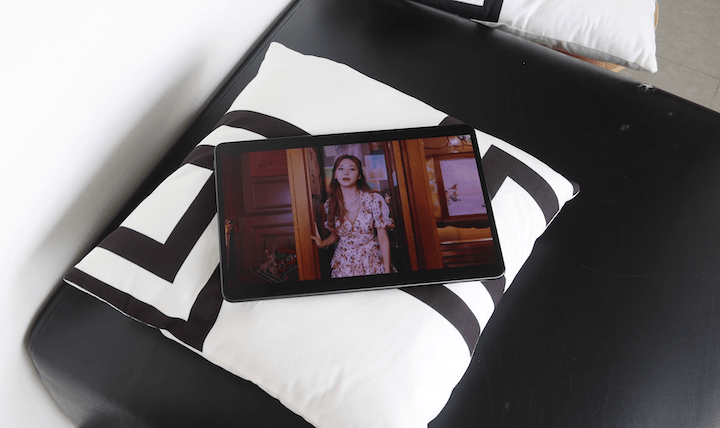 So, not only is this good for binge-watching on your favorite movie or TV series and streaming audio, but this also comes in handy when you're on an online conference or online class. You'll be able to clearly hear the conversation or lessons without having to use headphones or TWS earbuds.
Versatile cameras
While we don't really see tablets as a go-to device for taking photos, the cameras are still useful. In the case of the MatePad Pro 12.6, it has a 13MP main, an 8MP ultrawide, and a 3D depth sensor. That's a total of three sensors, which is uncommon in tablets. So, if you're out and something caught your eye as an inspiration for your work, bring out the tablet, take a photo or video, then edit and doodle on it. We find this handy for collaboration. Just take a photo of a document or any subject and share it. As for the 3D depth-sensing lens, it allows you to have a more accurate experience when using AR apps.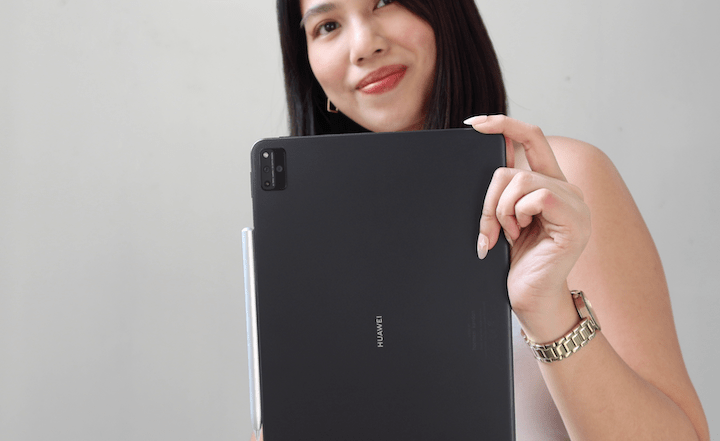 We also mentioned using the MatePad Pro 12.6 for online meetings and classes, so it's great to know that it has an 8MP front camera. All you have to do is open the tablet, launch the app, and start the call with coworkers, family, or friends. You don't even have to worry about plugging in a microphone as it is already equipped with 4 microphones with systematic AI noise cancellation technology and smart all-directional voice tracking. Meaning, it can automatically pick up your voice and intelligently adjust the volume while significantly reducing keyboard typing, mouse, and ambient sounds.
HarmonyOS 2.0-powered features
While the MatePad Pro 12.6 is a powerful device on its own, it's not designed to work on its own. Instead, it can turn into a sketching pad for a laptop using Mirror mode. What you write and draw on the tablet with the M-Pencil is synced in real-time to your laptop screen. Feeling limited for having a single screen? There's Extend Mode which turns the MatePad Pro 12.6 into a secondary monitor.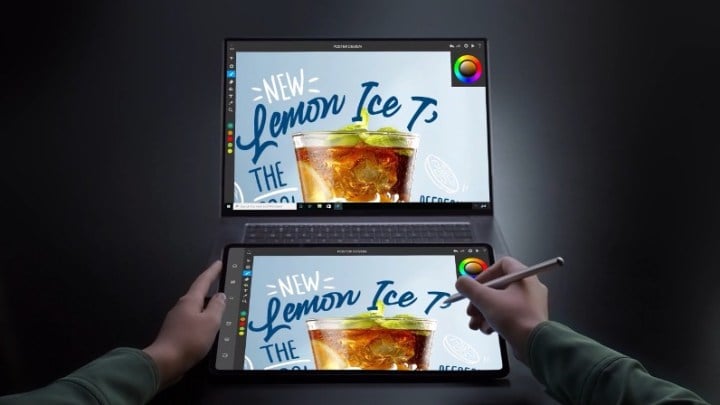 Then there's Collaborate Mode that allows you to easily drag and drop files within the tablet and the laptop efficiently. And if you have a Huawei smartphone that's at least running on EMUI 10, then you can connect the phone to the tablet and effortlessly drag files and more with Huawei Share.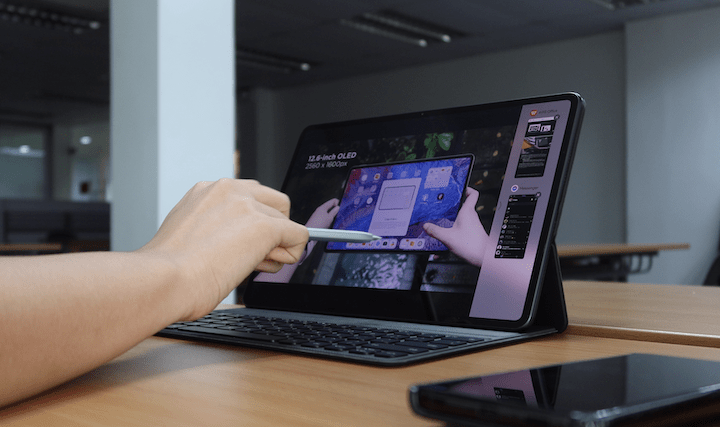 As for apps, you can easily download what you need from AppGallery like TikTok, Lazada, Viber, GCash, PayMaya, and Asphalt 9. With the help of Petal Search, it can help you scout other apps like Spotify, Netflix, and Zoom and install them right away. If you like tinkering with the device, you can also sideload your favorite Android apps.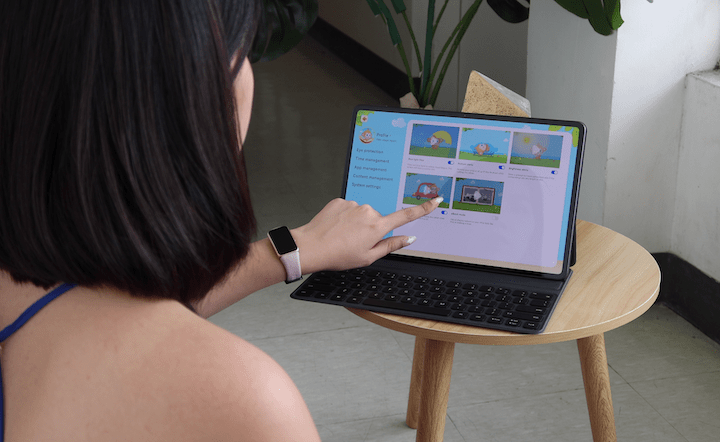 Accessing Google services shouldn't be a problem as the MatePad Pro 12.6 has a powerful browser where you can access Google applications like Gmail, Google Drive, Google Docs/Sheets/Slides/Forms, YouTube, and Google Maps. You can also download other popular browsers like Microsoft Edge if that's what you prefer.
Powerful hardware
Given the large, high-resolution screen, high-quality speakers, versatile cameras, and powerful collaborative features, the MatePad Pro 12.6 has to be equally powerful as well. Good thing it's got powerful hardware which includes the Huawei Kirin 9000E with 8 cores (Huawei's most powerful and fastest Kirin chip to date), a Mali-G78 GPU, an NPU with 1 Big Core + 1 Tiny Core for AI applications, 256GB of storage, and a large 10,050mAh battery with support for 40W SuperCharge and 27W fast wireless charging.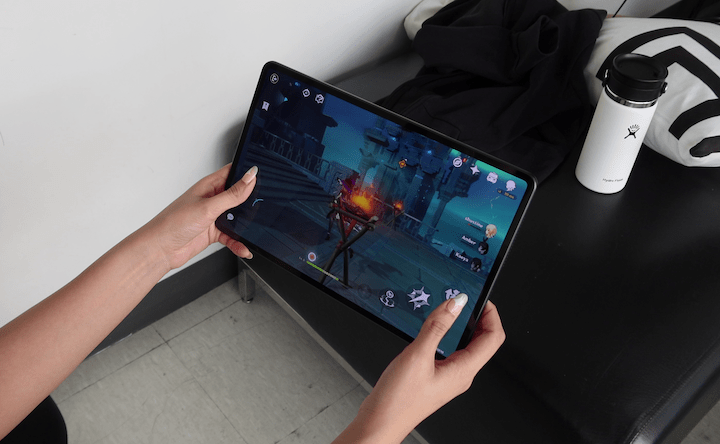 This hardware working together helps provide a seamless experience for productivity or entertainment.
What's the overall experience?
Big tablets on their own feel limited like they're just designed for watching videos and casual browsing, but when you add accessories such as a keyboard and stylus, as well as collaborative features, it becomes a whole new thing. It now encourages you to do work like how you would on a regular laptop. And the experience becomes more liberating considering that it is more portable and has a longer battery life than a laptop. You can even do more than a laptop, thanks to its touch and stylus support.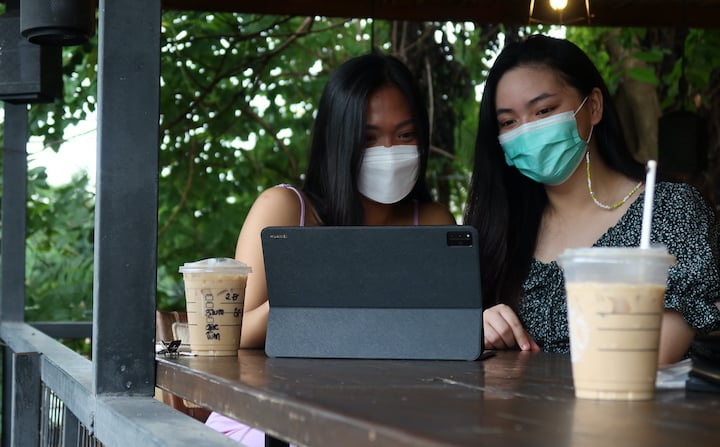 Of course, there are limitations to this setup, both in hardware and software. It's not Windows or macOS, obviously. But that makes productivity tablets like the Huawei MatePad Pro 12.6 special. They're built for light to moderate tasks. And since it's light and portable, you'll be motivated to be more productive. For heavier tasks, laptops like the MateBook series are still there, but if I want a powerful mobile office experience, I'll take the Huawei MatePad Pro 12.6.
The Huawei MatePad Pro 12.6 is priced at PHP 55,999 and is available in offline Huawei Stores, online Huawei store, Lazada, and Shopee. Until July 18, 2021, customers just need to add PHP 1 to get premium freebies worth PHP 19,925! The bundle includes a Huawei MatePad M-Pencil worth PHP 5,999, a Huawei Smart Keyboard worth PHP 7,999, a Bluetooth Speaker worth PHP 1499, a Huawei Band 4 worth PHP 1,890, and exclusive access to key productivity, creativity, and entertainment apps. The last promo bundle will be running from July 19 to 31, 2021. Again, you just need to add PHP 1 to get PHP 13,998 worth of premium freebies. This includes a Huawei MatePad M-Pencil 2nd generation and a Huawei Smart Keyboard.