GCash and Globe have shown the results of their efforts against scammers and are reminding customers to be extra vigilant when making transactions.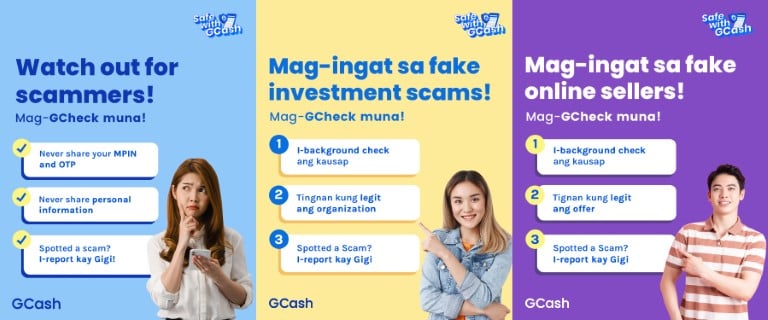 According to GCash and Globe, they have blocked 1.37 million fraudulent GCash accounts from January 2021 to July 2022. 400K malicious social media accounts were also taken down and have deactivated 14,058 scam-linked SIMs.


Below are the efforts that GCash has implemented versus scams:
• GCash has been ramping up efforts against fraudsters and scammers through its #SafeWithGCash campaign, as it urges its users to be extra vigilant when making transactions.
• GCash has swiftly rolled out a feature update that anonymizes the names of recipients in the send money service to provide an added layer of customer protection. In the past, the name of the person is seen as an added measure of convenience and helped verify that the recipient is correct.
• The e-wallet has started to migrate transaction confirmations from text messages to the app inbox to ensure customers receive only legitimate messages about GCash as well as allow easier access to their transaction history.
• GCash is also removing clickable links in official emails and text messages sent to customers followed by an aggressive information campaign that users will no longer receive messages from GCash that contain website links.
• These come on the heels of the National Telecommunications Commission's (NTC) order to block links in text messages which is seen as a significant deterrent against scammers. The Bangko Sentral ng Pilipinas (BSP), for its part, also called on its regulated financial institutions to undertake several steps in cracking down on cyber fraud and other attacks to financial services.
• GCash has also been working closely with other authorities and regulators in its fight against scams and other cybercrimes related to its customers. This includes working closely with the National Privacy Commission on the issue of text scams with names. It also partnered with the Department of Information and Communication Technology's (DICT) Cybercrime Investigation and Coordinating Center (CICC) to beef up its capabilities against cyber criminals.
• GCash is also in close coordination with the Philippine National Police Anti-Cybercrime Group (PNP-ACG) and the National Bureau of Investigation Cybercrime Division to arrest perpetrators and ensure prosecution.
• Globe has announced that it will be blocking text messages with links, which is the common platform that scammers use.
• Globe has spent USD 20 million, or about PHP 1.1 billion to boost its capabilities in detecting and blocking scam and spam messages.
GCash is also reminding customers on how to avoid being scammed:
• Beware of fake GCash Rewards. GCash does not send rewards via email. All emails asking you to claim GCash rewards are a scam. You can check GCash's official social media pages for official rewards offered on the app. You can also block the unknown number or email address and report it as 'Spam'.
• Be wary of fake online sellers, KKB requests, and fake donation drives. When shopping online, always check the reviews of the online store. If you're buying from a Facebook page, read the page transparency to see the page's authenticity and history. To avoid donating from fake organizations, make sure to donate only through official payment channels such as GCash and transact only with trusted organizations and GCash partner beneficiaries. Of course, when it comes to potlucks, only accept KKB requests from people you know and verify with your friends or family if they actually sent you a GCash KKB request to make sure it's legit.
• Order your GCash card only from the app. GCash never sells physical GCash Mastercard through online sellers so if you see a post offering one or if you received a text asking you to order your card by clicking a link, chances are it's a scam. You can order your own card only from the GCash app simply by tapping the 'View all GCash Services', then select Cash Out under 'Fund Management'. Lastly, tap Deliver under 'GCash Mastercard'.
• Do not sell your GCash account. You should never sell your fully verified GCash account to avoid identity theft and get your name linked to fraudulent activities without your knowledge. You should also stay away from individuals selling their GCash accounts to avoid getting your personal information from being used for illegal transactions.
• Do not entertain investment scams. Make sure to avail of investment offerings and insurance products only from official channels like from GInvest and GInsure on the GCash app.
• Do not share your personal information with fake GCash support and customer service. Swindling can also happen through transactions with fake customer support and customer service that imitates the company logos and page. GCash reminds its users that GCash can only be reached through GCash Help Center at https://help.gcash.com and are not available via messenger, and most especially GCash will NEVER send a text or email asking for your personal info, MPIN, and One-Time-Pin (OTP).
• To report a scam, users can visit the official GCash Help Center at https://help.gcash.com/ and message the chatbot Gigi on the website and type, "I want to report a scam." As for reported cases of swindling or scams, these can be reported immediately to GCash so that they can undergo proper investigation and help customers coordinate with the proper authorities.