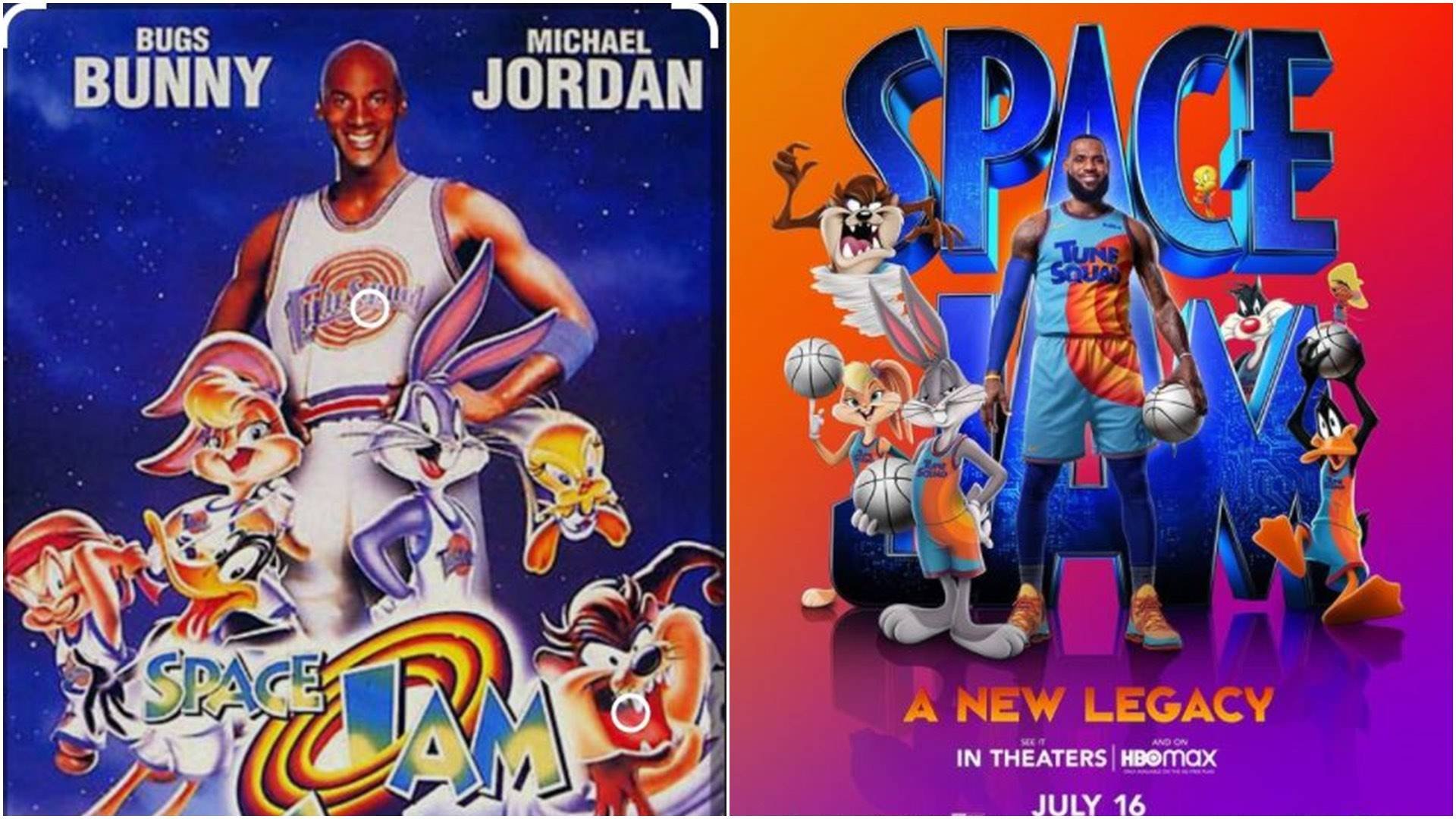 Photo credit: Space Jam movie/Instagram
By Kriel Ibarrola
Over the weekend, we've opened another chapter of the never-ending GOAT debate between Michael Jordan and LeBron James. This time around, it's not about their accomplishments on the court, but rather on the big screen.
Yes, Space Jam: A New Legacy, the sequel of the 1996 pop culture classic Space Jam starring LeBron James just got released recently.
The original, of course, was well received by generations of people around the world since it combined the world's best basketball players, with the lovable animated bunch from the Looney Tunes franchise crossing over. Space Jam was iconic, to say the least.
The sequel basically followed the same formula, of course, with a modern twist.
So, if you haven't seen the movie yet, read at your own risk because this article may contain some SPOILERS. You've been warned, guys!
READ: King LeBron reigns again as new 'Space Jam' tops North American box office
Ready? Time to put our nitpicking glasses on and answer this question: How did LeBron's Space Jam sequel stack up to the Jordan original?
Q: Which flick had a better thought out plot?
A: Space Jam.
Okay. As mentioned, both LeBron and MJ pretty much had the same motives in their respective movies. They played a fictionalized version of themselves and teamed up with a bunch of cartoon characters in a basketball game that serves a much larger purpose.
It's crazy as it sounds, but it did work.
Space Jam 1's plot was as straightforward as it gets. Jordan, who was in that forgettable baseball phase of his life, was practically kidnapped by the Looney Tunes and forced to play ball against those freakish Monstars.
Had they lost, the Tunes would be forever enslaved in Moron Mountain and Jordan would come with them as the main attraction. His Airness' real love for gambling was even included in the movie since he bet to get his fellow NBA superstars' talents back from the Monstars if they'd win.
In A New Legacy, it was a bit more complicated than that. LeBron had to navigate being a better father to his fictionalized son Dom (they should have just used Bronny LOL), all the while accepting the madness that is Tune World. He went head-to-head with a walking and talking computer algorithm and a bunch of NBA/ video game crossover characters in an extremely high-tech form of basketball.
If they lose, Bron, his family, and some random people all get stuck in the Server-verse forever. Bugs Bunny and crew will also be permanently deleted as well. Already a lot to take in, right?
While LeBron's journey was also quite nice, it did go off the rails a bit too much. It opened more questions than answers if you really put your head into it. Sure, Jordan's story had its fair share of plot holes as well, but it was somehow more simplistic and "believable."
Even non-fiction comedies such as this one benefit from a slight touch of realism, too.
Don't get us wrong, Space Jam 2's plot had its moments. However, it felt like it somehow lost some of the fun, humor, and earnest light-heartedness of its predecessor.
READ: WATCH: Manic Mashup of Two Worlds in 2nd Trailer of 'Space Jam: A New Legacy'
Q: Which had better animation?
A: A New Legacy.
TBH, this category is a runaway win for The King simply because his movie was ahead of its time. The animation in the sequel is WAY better, well because technology is at its best right now.
View this post on Instagram
The well-done CGI had a lot of facets to it, too. The digitized presentation of the Tunes at the beginning was spot on, bringing out some nice memories from our childhood. That cartoon version of Bron was also pretty amazing. And then, there were those 3D, furry-looking versions of the Tunes once the game started!
Bugs Bunny and crew looked real (which is a hit and miss for some). James really looked like he was interacting with his cartoon teammates.
Sure, Jordan's version wasn't all bad either. Remember how Stan got blown into a massive balloon in the original? Or how about Jordan going all Mr. Fantastic in that final game-winning dunk? That was impressive (during that time, at least).
But given the improvements of technology since then, we've seen better. For instance, that game between the Tune Squad and the Goon Squad was outstanding! It really channeled some major nostalgia for the older audience. It's like we were back playing NBA Jam on our Playstation!
Q: Who had the scarier villain?
A: Space Jam's Mr. Swackhammer.
Before we get into who was the better actor between Jordan and LeBron, let's talk about their respective antagonists.
Just to be clear, Don Cheadle did one heck of a job as the main baddie of Space Jam 2—Al G Rhythm. His motives were solid, all the while carrying himself in a menacing yet PG kind of way.
Some may argue that Al G was a better antagonist than Danny DeVito's Mr. Swackhammer from the original, since that character was the typical mean big-boss guy. However, the point goes to Space Jam 1 on this one since the Goon Squad was pretty underwhelming compared to the iconic Monstars.
View this post on Instagram
The star-power was definitely there, with Anthony Davis, Damian Lillard, and Diana Taurasi, among others. However, they didn't have the same impact as those freakish tiny aliens who eventually became gargantuan basketball stars.
But hey, we saw a cameo from the tiny Monstars as audiences in the sequel. That was neat.
READ: LeBron James wants to retire a Laker
Q: Who did it better—Jordan or LeBron?
A: You be the judge!
Let's begin by pointing out the obvious. Both LeBron and MJ are mainly professional basketball players, so we shouldn't expect Oscar-worthy performances of any kind. Still, we can't help but compare who was the better actor.
Jordan was arguably the most loved athlete in the world around the time the original came, showcasing a well-received performance.
Meanwhile, we already saw James' acting chops in the 2015 film Trainwreck, where he played a goofy version of himself. James did pull off his act as an overbearing dad in the sequel. While he won't be winning any awards soon, it seems that LBJ's acting was more well-rounded than His Airness.
However, some fans hilariously pointed out that MJ is still the GOAT since he OUTPLAYED Bron in the Tune Game.
Of course, both superstars hit the game-winners in their respective movies. Still, it was Jordan who had more superior stats. The 6-time NBA champion made all of his 22 field goals in Space Jam 1. Whereas LeBron only made four and even missed one shot!
So, who do you really think is the Space Jam GOAT?
In any case, we have some more final notes.
First, Don Cheadle lied! As a promo for the movie, the veteran actor teased that Michael Jordan will appear in the sequel (though not in the way we'd expect). True enough, "Michael Jordan" did appear, but not the MJ we wanted. Actor Michael B. Jordan had a brief cameo that got Daffy Duck all riled up in disappointment. Same.
Next, we wanted more references to the original. Given it's technically a cartoon without boundaries for realism, a lot of fans really wanted the Tunes to at least acknowledge Space Jam 1 happened in that multiverse. Bug Bunny did break the fourth wall and vaguely mentioned that Bron's plan was "familiar" but that's pretty much all the mention of the original film.
Still, the pop culture references were dope! Where to begin? LeBron and Bugs hopping around Warner Bros. worlds was indeed fun to watch. From Gotham City, to Themyscira, and the Mad Max-inspired dystopia. That was really fun.
Overall, Space Jam: A New Legacy was a fun experience for kids and kids at heart.
At the end of the day, it's a movie for children and also a nice nostalgic trip down memory lane for their parents. Nothing to overthink here.
Have you watched it yet? Let us know your thoughts!
ALSO READ: LeBron James, Space Jam Tune Squad latest star in McDonald's Happy Meal