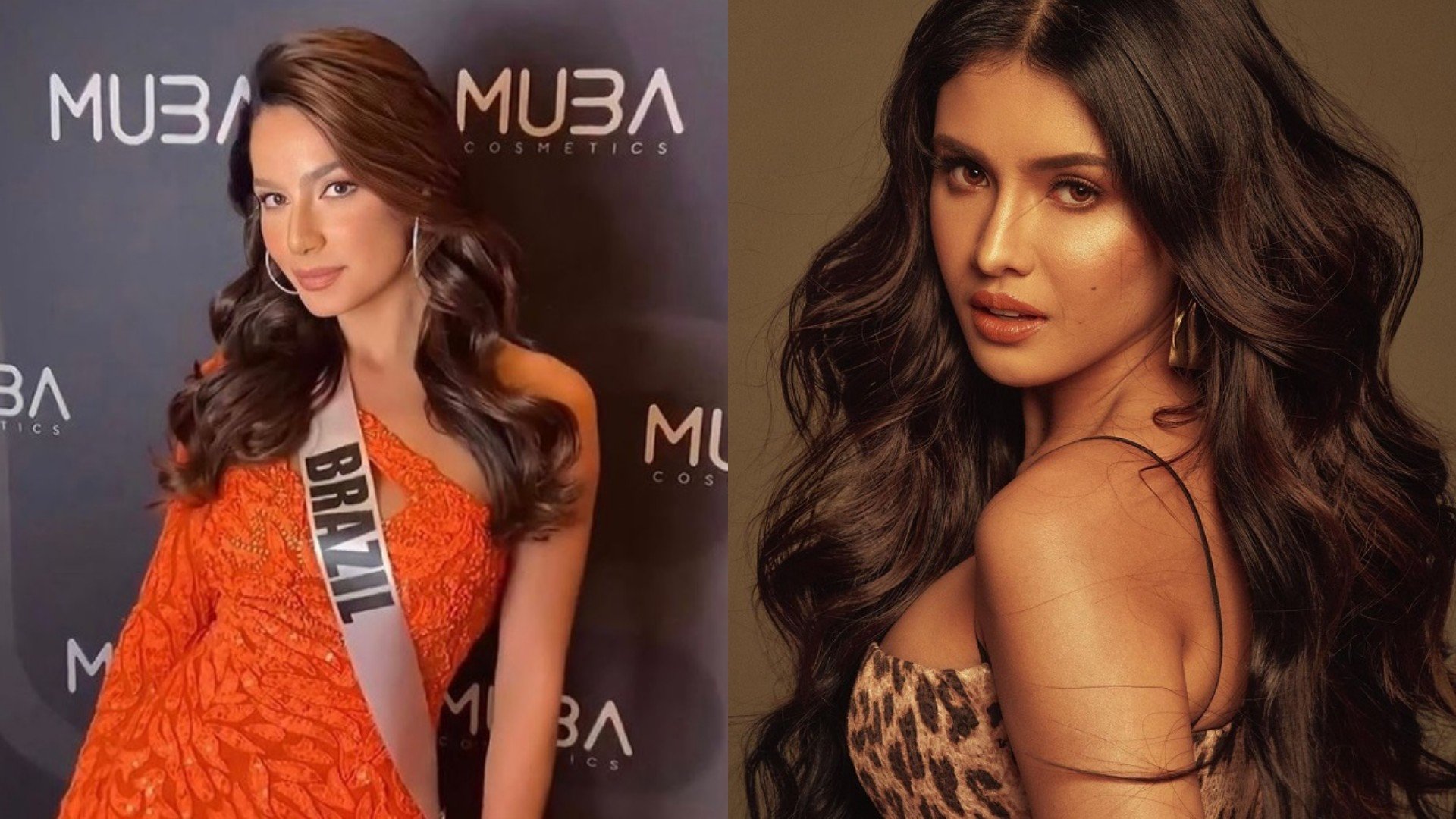 Photo credit: Julia Gama/Instagram, PageantPH/Twitter
Filipinos are known around the world as the biggest fans of beauty pageants. Real talk: We can also get very intense about supporting our candidates. (Alam ninyo na yan!) So when Miss Universe Brazil Julia Gama took the time to learn our language, she quickly became a beloved figure among the local pageant stans.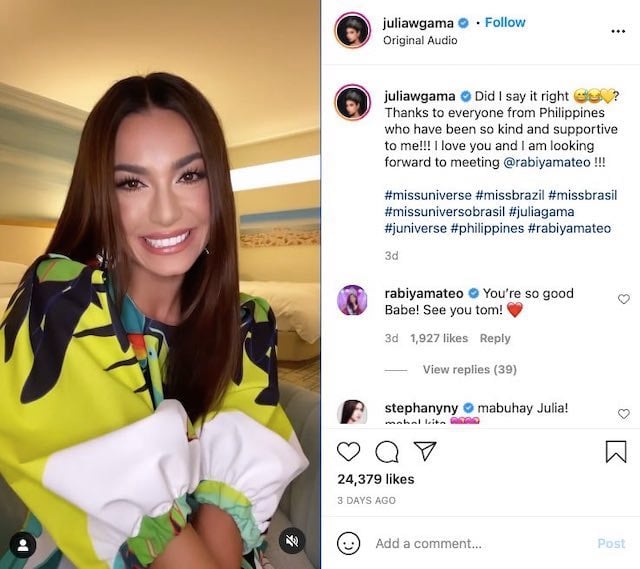 Photo credit: Julia Gama/Instagram
On her Instagram page, Julia greeted Pinoy fans and said, "Mabuhay, Pilipinas! Kumusta? Ako po si Julia Gama, ang Miss Universe ng Brazil! Maraming salamat sa lahat ng suporta. Mahal ko kayo!" The 28-year-old Miss Universe hopeful and actress was showered with well-wishes from Pinoy users who posted messages of love and support with emojis of the flags of the Philippines and Brazil together. Even our very own Miss Universe Philippines, Rabiya Mateo replied and said, "You're so good Babe! See you tom!"
We are here for this kind of friendly competition! After all, no matter who we're rooting for, we should never put others down in order to lift our faves up. Our Miss Universe Philippines Rabiya Mateo is a shining example of a class act, always being supportive of fellow candidates and even calling out any wrongdoings caused by her kababayan.
In fact, Rabiya Mateo recently apologized to Miss Universe Canada Nova Stevens for racist remarks left by Pinoy fans on the latter's Instagram page. Rabiya also extended her apologies to Miss Universe Thailand Amanda Obdam, whose supporters have been clashing with Rabiya's Pinoy supporters.
READ: Rabiya Mateo apologizes to fellow Miss Universe 2020 candidates for Pinoys' racist comments
Rabiya Mateo says in a statement, "Regardless of what type of competition we are in, I hope the Filipinos will still be respectful. I know that these hate comments are not a reflection of who we are as Filipinos, and what our country has to offer. We are so much more than that. It's just that some people have normalized being cruel, especially in the industry of beauty pageants. We can support each other without destroying each other."
Queen Rabiya has spoken kaya dapat behave tayo! Let's bring back the good vibes that comes with enjoying beauty pageants because as Miss Brazil Julia Gama and Miss Philippines Rabiya Mateo have shown, it's possible!
Aside from the Philippines (Hello, given na kasi yun!), which Miss Universe candidate ang bet mo?