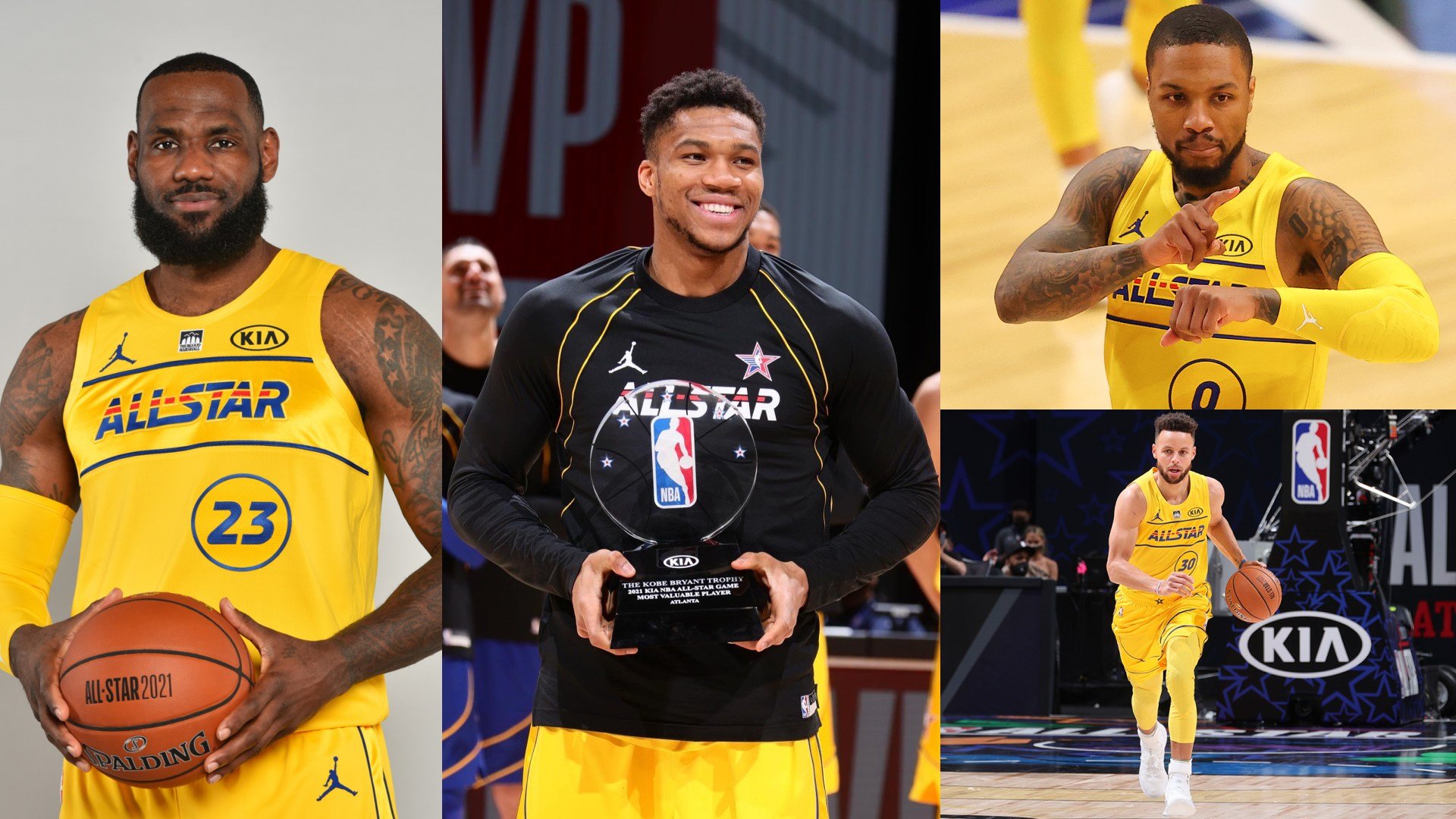 Photo credit: Lakers Twitter page, Giannis Twitter page, Trail Blazers Twitter page, and Warriors Twitter page
Team LeBron ain't playing when it comes to the NBA All-Star game. First off, they got most of the awards Domanatas Sabonis winning the skills contest, Steph Curry owning the 3-point shootout, and Giannis Antetokounmpo nabbing All-Star MVP as shown above.
Now for the main game, both Damian Lillard and Steph Curry dropped half-court bombs just for kicks while Giannis Antetokounmpo pulled off a perfect 16-for-16 performance, resulting in a 170-150 against Team Durant. It was an epic All-Star weekend that's one for the books! King James was definitely flexing his team online since it's his fourth year winning as an All-Star captain.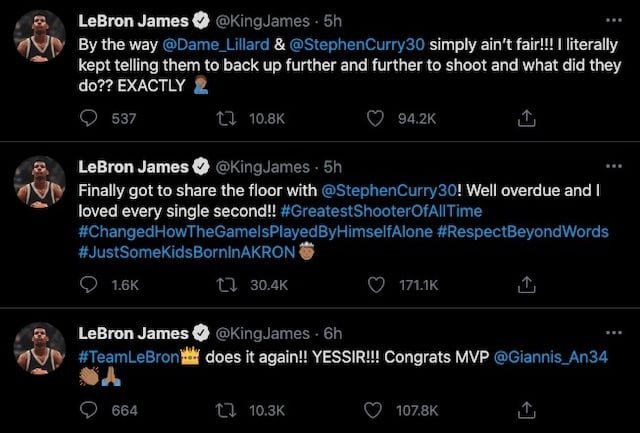 Photo credit: LeBron James Twitter page
Real talk: Assembling a dream team is no easy task. You need to choose players with complementary skills and the right attitude. And when you've got the best of the best in one team, it becomes the ultimate test of leadership. So there's more than enough reason to celebrate this victory.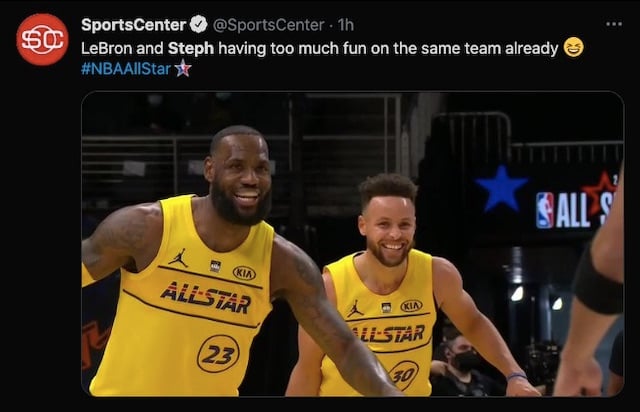 Photo credit: Sports Center Twitter page

Photo credit: Stephen Curry Twitter page
Curry scored 28 points during the All-Star game. As an All-Star 3-point shootout winner, it came as no surprise that he would be tossing out easy threes throughout the game. But then out of nowhere, he does a half-court shot like it's no biggie.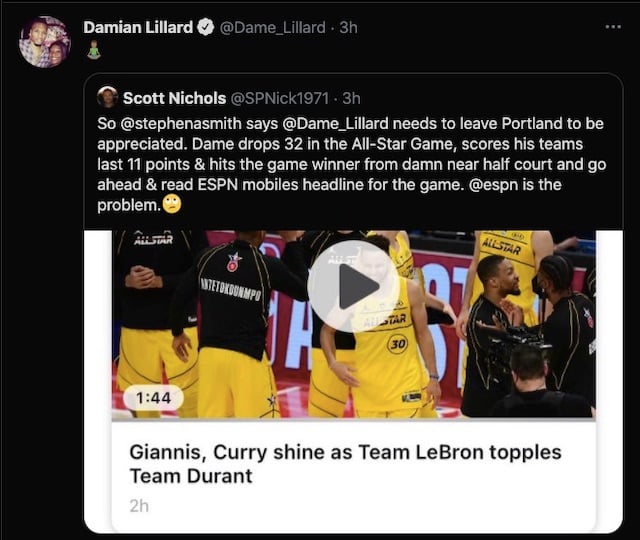 Photo credit: Damian Lillard Twitter page
Lillard scored 32 points for Team LeBron, which set the Trail Blazer record for most points racked up off the bench. As if that wasn't enough, he also smoothly executed the winning half-court shot like a boss, earning their team the final score of 170 points.
That's right, both Dame and Steph were trading half-court bombs like homies while the virtual crowd goes wild.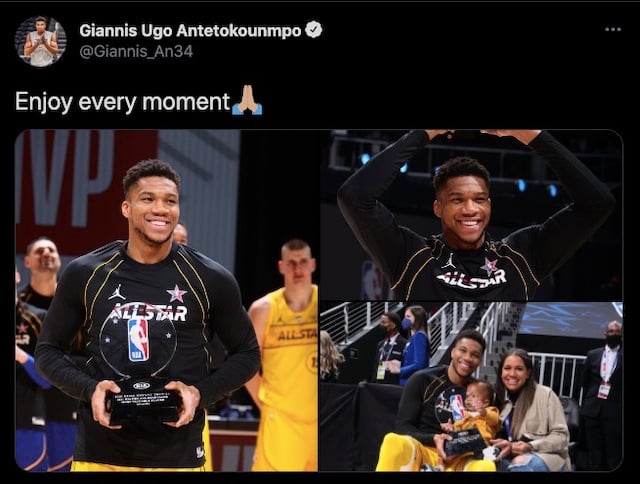 Photo credit: Giannis Antetokounmpo Twitter page
And now for the real All-Star MVP of this game: Antetokounmpo scored 35 points while shooting a clean 16-for-16 from the field and 3-for-3 outside the arc. The dude is in great company because the only other players to sweep MVP, All-Star MVP, and Defensive Player of the Year (DPOY) are Kevin Garnett and number 23 himself, Michael Jordan. This guy is on his way to GOAT status.
With that recap, we'll have to wait a year before we see another legendary All-Star match. And you best believe that the NBA are already planning for it and have the next homecourt on lockdown.

Photo credit: NBA All-Star Twitter page
Cleveland, here we go! For those who rooted for Team LeBron, how did you celebrate the win? And for the Team Durant fans, on a scale of one to the deep ocean, how salty are you feeling right now?