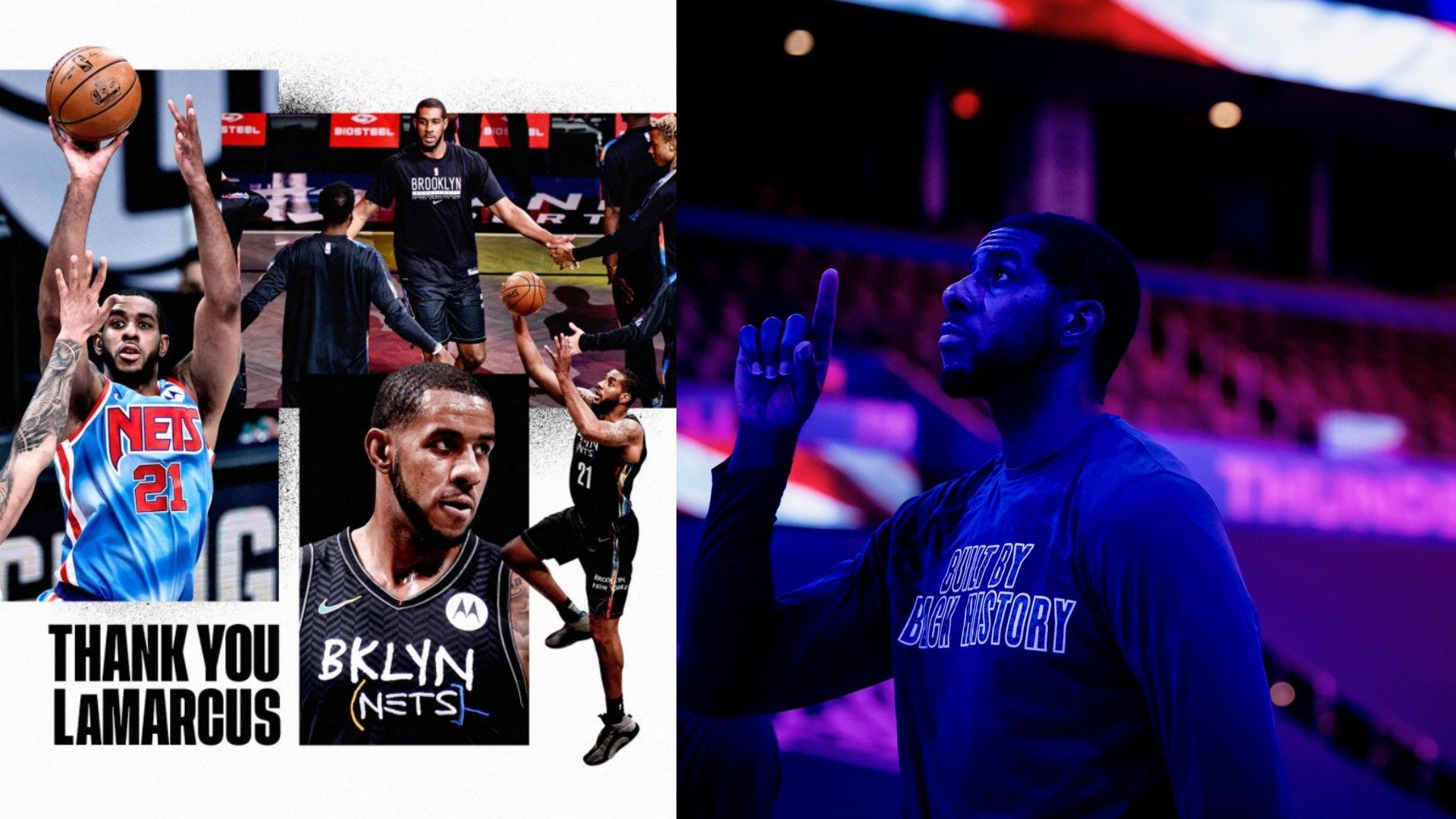 Photo credit: BrooklynNets/Twitter, LaMarcus Aldridge/Twitter
LaMarcus Aldridge caught everyone by surprise when he announced his sudden retirement from basketball. It was only last March that Aldridge signed on with the Brooklyn Nets and was already gearing up to contend for his first NBA title.
But looks like the player's illustrious NBA career must come to an end after a major health concern with an irregular heartbeat.
The seven-time All-Star was diagnosed with Wolff-Parkinson-White (WPW) Syndrome back in the 2006-2007 season. He underwent several ablation procedures to maintain a regular heartbeat and enjoy the long, storied career he's had.
However, he experienced another irregular heartbeat episode after the Nets' match against the Los Angeles Lakers, prompting him to make the difficult decision.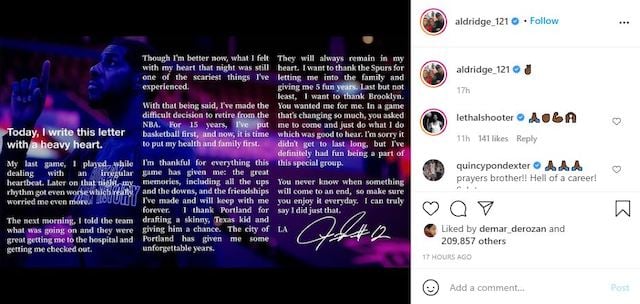 Photo credit: LaMarcus Aldridge/Instagram
Aldridge wrote in his heartfelt retirement announcement, "You never know when something will come to an end, so make sure you enjoy it every day." He continued, "I can truly say I did just that."
LaMarcus Aldridge is one of the most underrated superstars in the league, especially during his heyday with the Portland Trail Blazers and the San Antonio Spurs.
The 6-foot-11 slotman was a magnificent low-post operator who had all the moves in the world down the block. His weapon of choice? A smooth fadeaway jumper that is pretty much impossible to block. LA was a perimeter assassin in an age where jump shots were becoming extinct in favor of 3-pointers. He was always a dependable force who's guaranteed to give you a double-double every game. Aldridge also had the kind of nimble footwork that you wouldn't expect from a guy his size.
It's a shame that LA won't be able to reach that 20,000-career points mark considering that he just needs 49 points to join the prestigious club. He has career averages of 20.4 points on 49.1% shooting from the field and 8.7 rebounds per game.
But at the end of the day, a player's health and safety should always come first.
Regardless of the possible heights he could have reached with the Nets this season, Aldridge already had an amazing career. Here's a quick highlight reel below.
44 points vs. Nuggets (Blazer career high) in 2014
While Aldridge had plenty of memorable scoring nights for the Blazers, it's his 44-point explosion in a regular season game against the Nuggets that fans most remember.
LA was punishing Denver's bigs with his well-rounded offensive repertoire. He even came up big in the clutch, scoring Portland's final 15 points down the stretch to seal the win. He finished with 44 points, 13 rebounds, and five assists in 38 minutes of play.
46 points vs Rockets (playoff career-high) versus Rockets in 2014
In Game 1 against the mighty Rockets, LA played his heart out and made sure his team came out on top. He scored 19 points in the pivotal fourth quarter including a crucial tip-in to send the game to overtime. Aldridge was even more unstoppable in the extra five minutes, drilling a 3-pointer to steal Game 1 on the road.
Career-high 56 points vs Thunder in 2019
Aldridge's full arsenal was on display against the Thunder while some critics thought he was already past his prime by then, he proved them wrong with this incredible performance. Aldridge went 20-for-33 from the field, including a pristine 16-for-16 clip from the foul line in his career night. He totalled 56 points along with nine rebounds, four assists, and four shot blocks in the Spurs' win. The feat made Aldridge the first Spur player to score 50 points in a game since Tony Parker back in 2008.
He may have retired from playing but we still believe that he can still participate in the NBA scene once he's feeling better again.
Which one was your favorite LaMarcus Aldridge moment?