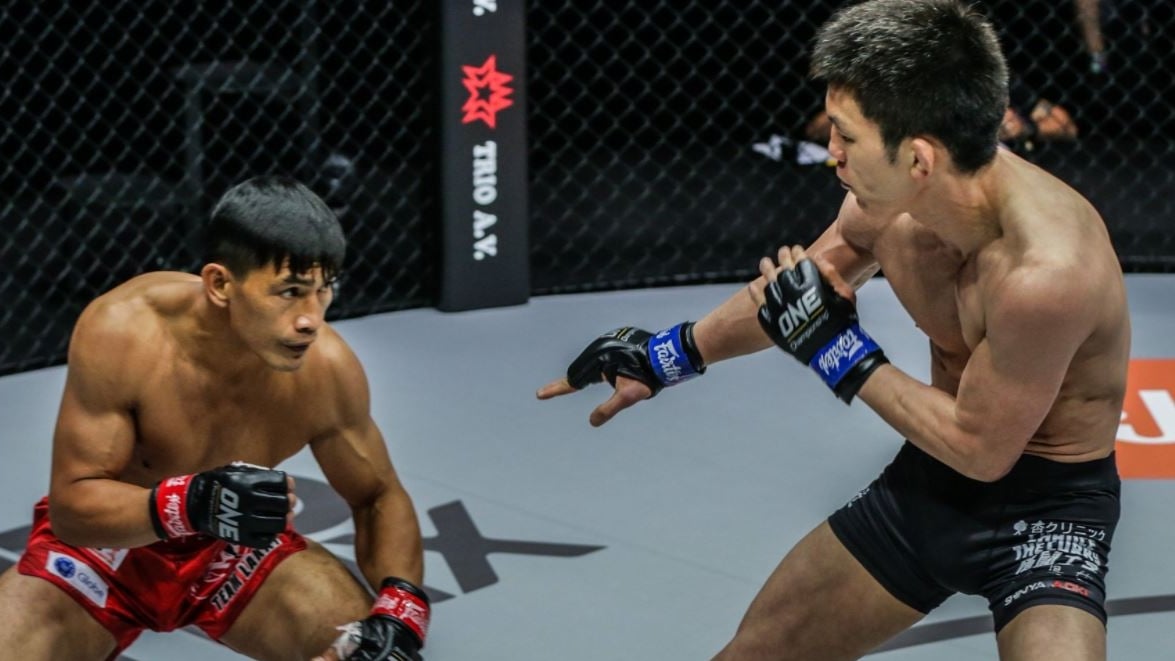 Photo credit: Nissi_Icasiano (via ONE Championship) /Twitter
Eduard Folayang's rivalry with Shinya Aoki has officially come to an end. The Japanese legend got the better of the Team Lakay stalwart in their grudge match in ONE on TNT 4 at Singapore Indoor Stadium last April 28 (April 29, Philippine time) but our guy still put up a good fight.
Aoki, who is considered one of the best Jiu-jitsu specialists in the world, once again stuck to his game plan and took Folayang to the ground. From there on, it was only a matter of time before Aoki imposed his will. Here's Aoki's submission attempt that ended the fight. Tobikan Jūdan, which translates to The Grand Master of Flying Submissions, lived up to his nickname and executed a textbook flying armbar, forcing the Landslide to tap out at the 4:20 mark of the first round.
Folayang made an admirable effort in the beginning of the match to keep the fight standing. The Wushu expert, however, was still unable to hold off Aoki's takedowns midway through the round. Aoki now holds a 2-1 edge over Folayang.
Looking back at their past brawls, the Baguio-native did pull off an epic upset over Aoki during their first bout back in 2016, where he won the ONE Lightweight Championship via TKO. Three years later, Aoki won the match by submitting Folayang with an arm triangle choke upon their second meeting.
What happened this time? Well, grappling has always been Folayang and Team Lakay's Kryptonite. Aoki knew this and made sure to utilize the ground against the Filipino striker.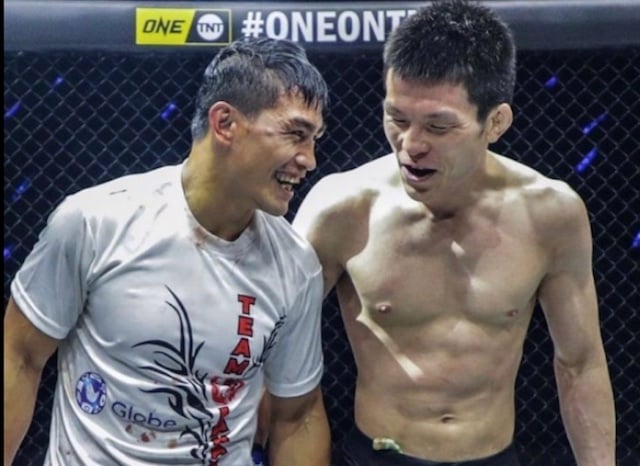 Photo credit: Eduard Folayang/Instagram
However, there's no bad blood between Folayang and Aoki. The Pinoy fighter even posted the photo above on his Instagram, congratulating his rival in the caption saying, "...it's always an honor and privilege facing you."
Folayang even said in a post-match interview, "He's like a snake! He's very tight and he's very calm on the ground. Huge congratulations to Shinya!"
What's next for the Pinoy MMA fighter? Folayang's future remains uncertain at the moment but remains hopeful in the same post saying, "Thank you to all the prayers and support. It's not the end of the road."
He concludes the caption with an inspiring quote, "Failure should be our teacher, not our undertaker. Failure is delay, not defeat. It is a temporary detour."
How can Eduard Folayang bounce back from this match?