Photo credit: iKON Instagram page and Youtube channel
Bobby just dropped a teaser trailer featuring the rapper stylin' and profilin' in hip street gear and a cool new 'do on top of a building. Even without dialogue, the message is loud and clear: We're getting ourselves another solo album! iKONICS are frantically waving their Konbat light sticks in anticipation of Bobby's follow-up release to 2017's "Love and Fall."
But what's going to be the concept behind this project?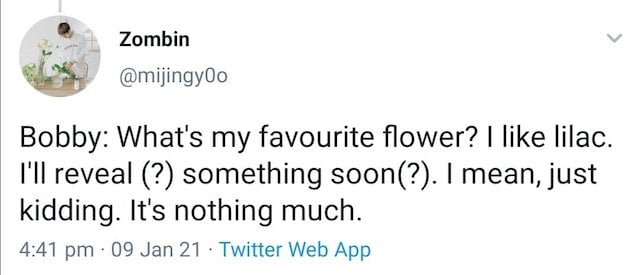 Photo credit: GUDOJOAYO Twitter page
Now that a solo comeback is in the works, we can't help overthinking each and every Bobby quote from the past. Well, K-Pop Internet detectives were immediately on the case, investigating the virtual space for clues. Does this mean that our boy is about to drop the hottest bop with a killer MV that's all kinds of iconic (or should we say, "iKONIC")?
Without a doubt! But more importantly, the question haunting every fan's mind: Does this mean we'll be seeing iKON performing as a group again in 2021?

Photo credit: DAMJISUS Twitter page
One can only hope for the best! In the meantime, let's commiserate with fellow iKONICS joking about saving up cash because they're expecting to splurge on some sweet Bobby promotional merchandise and then some.
If you want to scrub the video for hints, you can check out Bobby's "Coming Soon" trailer below: