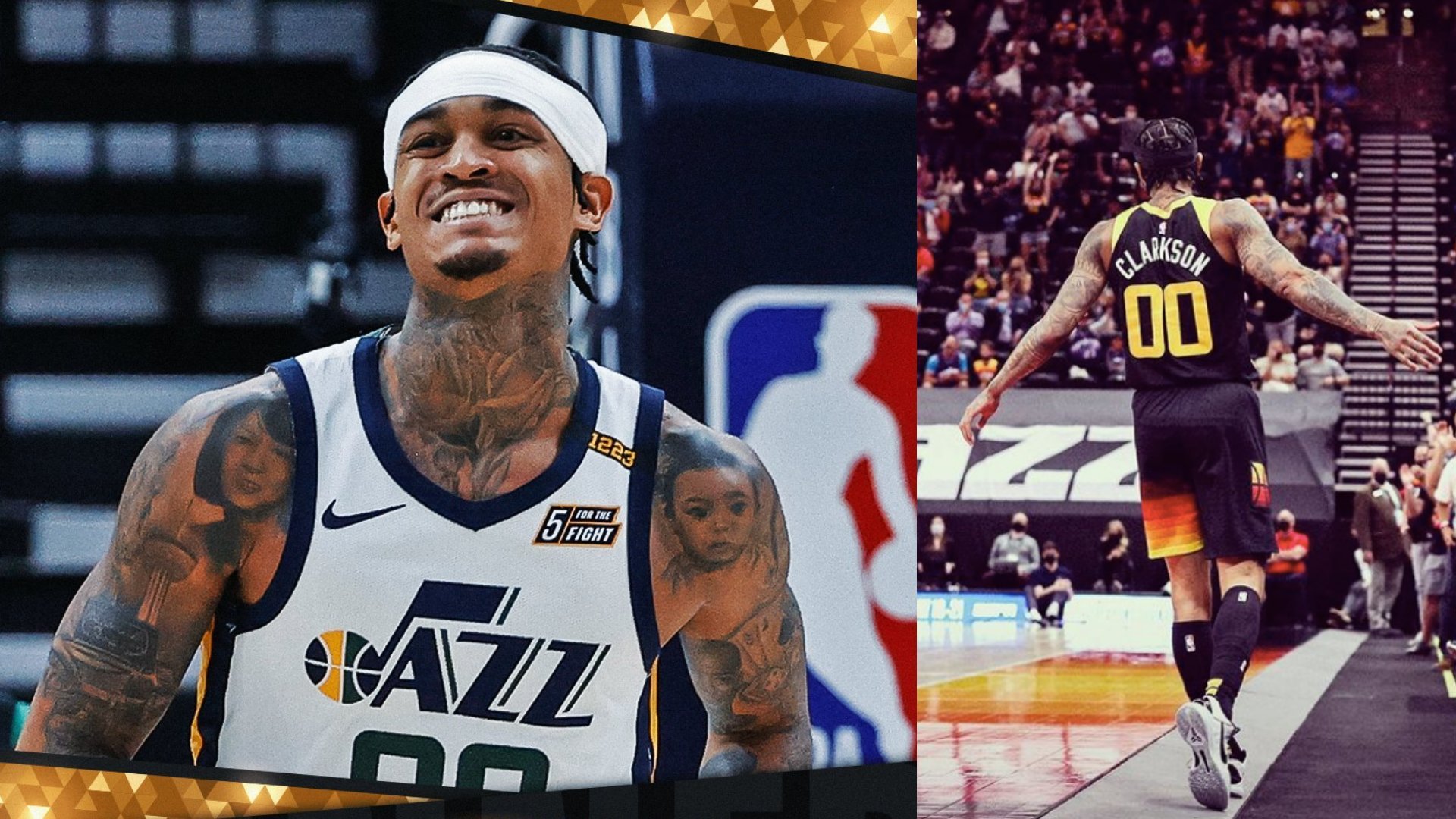 Photo credit: NBA/Twitter, Jordan Clarkson/Instagram
Ilabas ang pansit at mag-fiesta tayo sa kanya-kanyang bahay (kasi bawal pa ang group gatherings for pandemic-related reasons) dahil nanalo ang ating manok sa labanan!
Jordan Clarkson wins the NBA's Sixth Man of the Year award for the 2020-2021 season, proving why the Utah Jazz has the best bench in the league.
The 28-year-old scorer bested teammate Joe Ingles and New York Knicks guard Derrick Rose for the first major individual award of his career. For the win!
READ: Game on! NBA reveals finalists for the end-of-season awards
Pinoy basketball fans have been rooting for JC to win the award all year long, each one building a solid case as to why Clarkson deserves that recognition. Yes, even we shared our take on the situation.
READ: Why Jordan Clarkson should win the Sixth Man of the Year award
Looks like NBA Commissioner Adam Silver has heard our pleas (or perhaps, feared the possible riot that might go down), agreeing that JC is the best bench player.
While almost every major award this year is up for debate, it's pretty clear that Clarkson is the 6MOY. No competition at all!
In 68 regular season games, the 6'4" spark plug notched career-highs of 18.4 points, 4.0 rebounds, 2.5 assists, while shooting 42.5 percent from the field and 34.7 from 3-point range.
There were games where JC simply took over the scoring department, as he also became just the sixth reserve in NBA history to have multiple 40-point games off the bench. That's crazy.
But what exactly sealed the deal for his victory? The Jazz actually kept winning on the occasions when Clarkson started. JC really flexed his value when superstar Donovan Mitchell sat out due to injuries. Clarkson brilliantly took over Mitchell's spot and kept things afloat for the number one team in the league.
READ: Top 6 teams from the NBA Western Conference
Clarkson's career has now come full circle. We've witnessed his amazing journey from a relatively unknown second-round pick to a Sixth Man of the Year winner.
Saludo kami sa'yo, Jordan!
Photo credit: NBA/Twitter
Now let's get that #PinoyPride hashtag trending once again as we celebrate another Filipino athlete dominating the international stage.
Do you think Jordan Clarkson will continue his fine play for the Jazz this postseason?