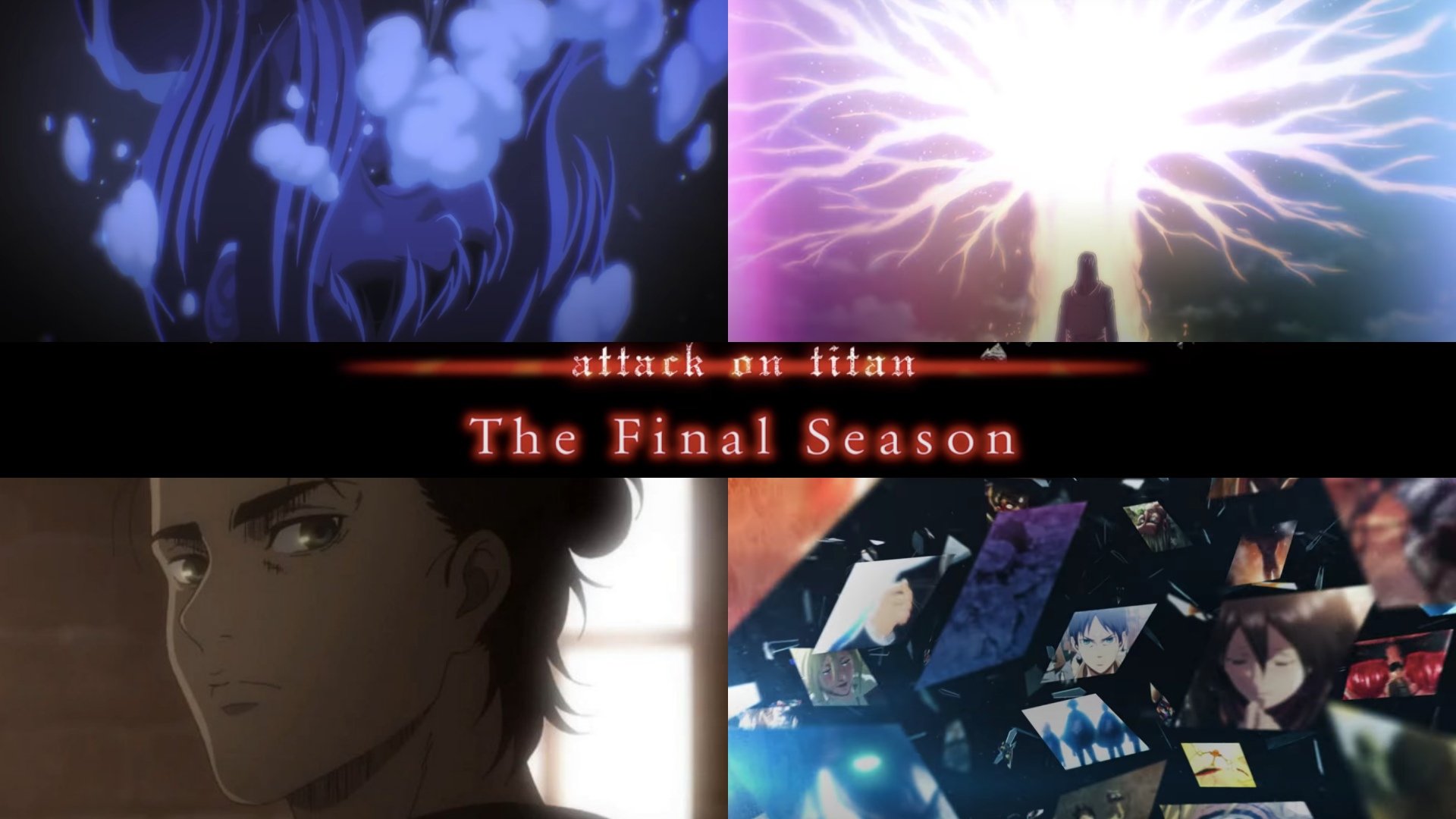 Photo credit: mksayuu Twitter page and Pony Canyon YouTube channel
Sasageyo! We finally reached the last episode of The Final Season. Seems like a lot of things are ending for the Attack on Titan fandom since author Hajime Isayama previously announced that the last manga chapter and series finale is coming on April 9. But don't worry, fellow stans! We just got confirmation that Studio MAPPA is working on another batch of episodes to conclude the storyline. Before we proceed, let's take a look back at Part 1.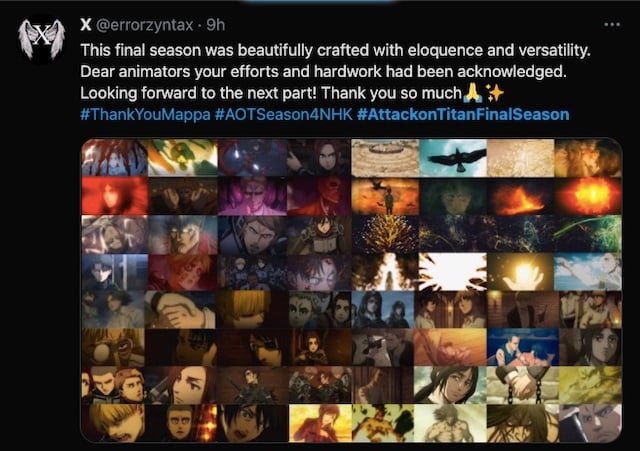 Photo credit: errorzyntax Twitter page
The 16-episode season covering the "Marley" and "War for Paradis" arcs has been a wild ride, especially for anime-only viewers. Imagine spending most of the series believing one side was evil and then learning the motivation behind the so-called "villains" of the story. Not to mention, the "hero" also makes questionable decisions that concern his allies. (Well, that's the gist of it without spoiling too much!) If you noticed that the art for Attack on Titan Final Season was a bit different, that's because Studio MAPPA took over animation duties from WIT Studio with impressive results. (Much love for both animation studios!)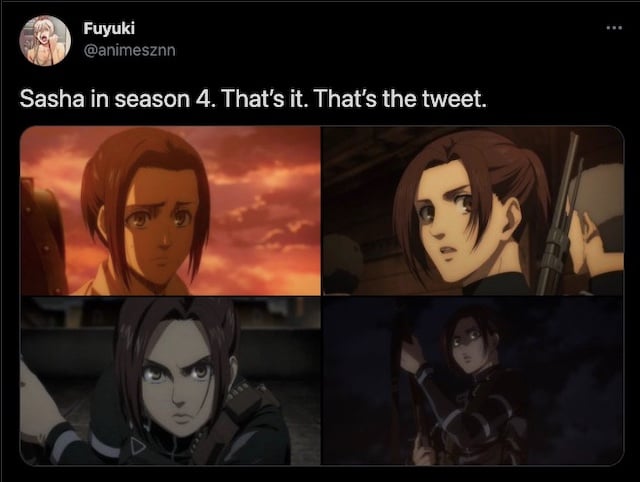 Photo credit: dennicioosooo Twitter page
Looking back on the first half of the final season, we remember a lot of epic manga moments that were skilfully animated such as the Ackerman clan attack featuring Levi and Mikasa swooping in to kick Titan butt. The show also had its share of jaw-dropping moments that made otakus collectively weep and hug their anime body pillow such as Sasha Blouse's sudden death. (A moment of silence for our beloved meat and potatoes fangirl.)
Photo credit: levisalive Twitter page
No AOT post would be complete without admiring Levi Ackerman in all angles. *Cue fan squealing* He should be considered one of the MVPs of this season for all the trouble and trauma he's gone through so far.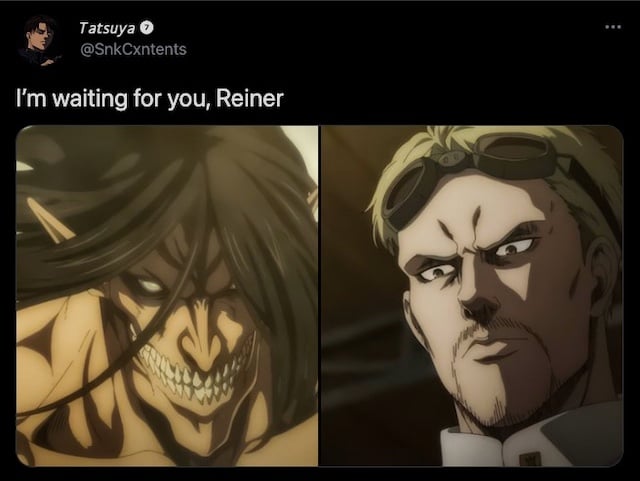 Photo credit: SnkCxntents Twitter page
Perhaps the most riveting scene from the last episode, that raised the anticipation levels for otakus around the world, is the menacing battle staredown between Titan Eren and a newly returned Reiner. Will this be their final clash? You'll have to wait a whole year to find out!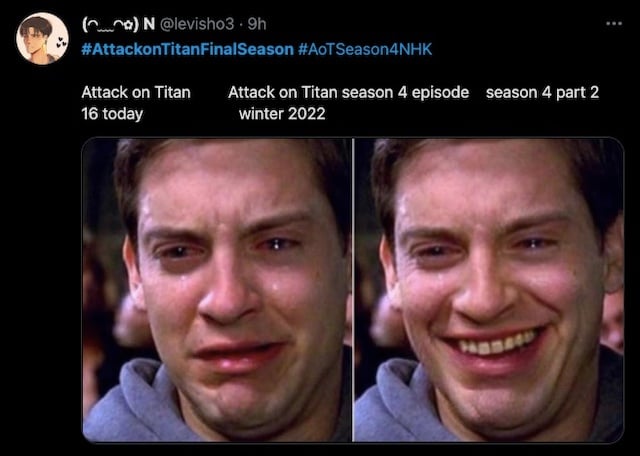 Photo credit: levisho3 Twitter page
That's right! Attack on Titan The Final Season Part 2 is slated for release during Japan's winter season, which means around early 2022. If anime viewers thought the first half was a stressful watch then hold on to your ODM gears because the concluding arc will raise the stakes for humanity. Without spoiling too much, the second half will delve much deeper into the lore showing more of the OG Titan-shifters such as Ymir Fritz among others. If you're fine with spoilers, check out our feature on what's going down in Attack on Titan's manga. For a glimpse of the animated previews, watch the teaser trailer below.
Which was your favorite episode from the current season? Which manga moment are you looking forward to seeing finally animated?