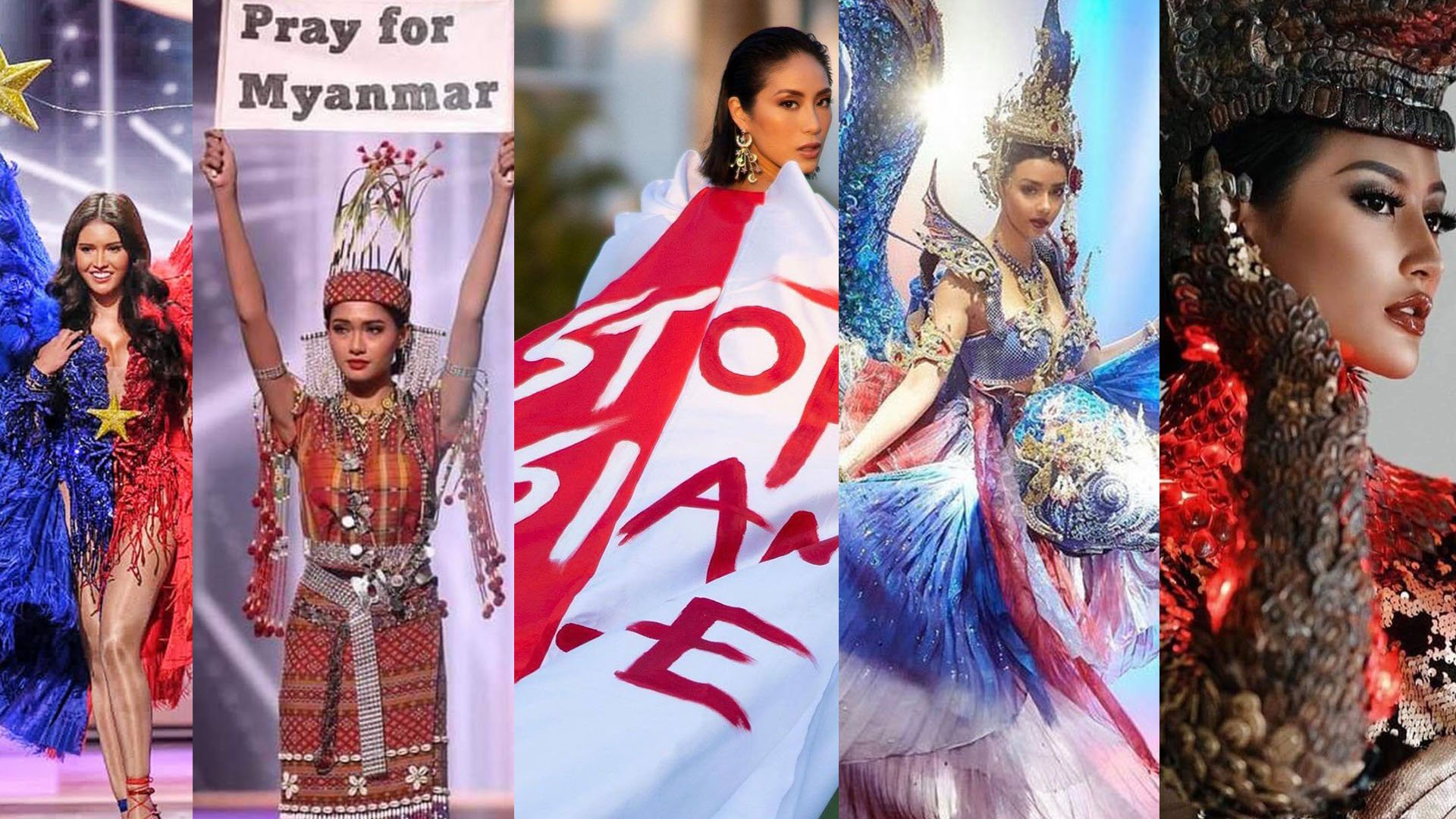 Photo credit: xadel_256/Twitter, aunglay333/Twitter, cardibsingapore/Twitter, j0mai/Twitter, jihyolucu/Twitter
The National Costume event is one of the highlights of the prestigious Miss Universe pageant. Saan ka pa makakakita ng mga larger-than-life, gravity-defying cultural props that are being carried by gorgeous candidates while strutting around in sky-high heels? It's not just a simple rampa on the catwalk but an all-out performance! Each candidate is like a walking entertainment complex—kulang na lang ang fireworks.
More importantly though, while we enjoy the extra-ness of it all, the event is more about expressing national pride in a highly innovative and creative manner. Fashion designers certainly have their work cut out for them in this category.
Ngunit hindi nagtatapos sa pagmamaganda lamang ang rampa ng mga kandidata. Many Miss Universe representatives have also taken the opportunity to promote their advocacies. We commend them for making the most out of the platform (Hindi yung heels, ha?!) they were given in this competition.
Sabi nga ni madam Pia Wurtzbach, ang isang Miss Universe ay dapat "confidently beautiful with a heart."
READ: Earrings ni Pia Wurtzbach ang agimat ni Rabiya Mateo para sa Miss Universe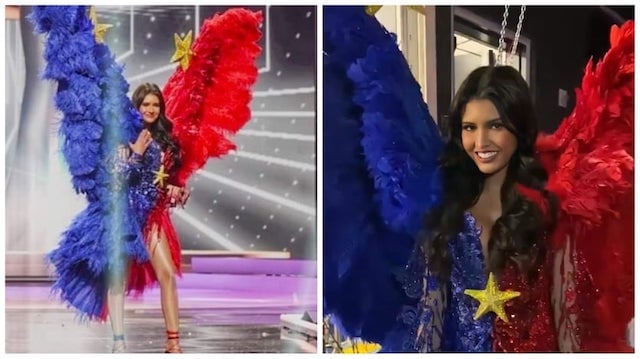 Photo credit: Jonas Gaffud, Senyora/Twitter
We think that our current Miss Universe Philippines truly embodied Queen P's description of a pageant winner. Rabiya Mateo sashayed on the catwalk like a Victoria's Secret Angel, dressed in a costume representing the flag of the Philippines. The feathery ensemble was created by the late great fashion designer Rocky Gathercole. According to some pageant stans, the color combination can also represent the previous Pinay Miss Universe title holders, Pia Wurtzbach (who wore blue) and Catriona Gray (who wore red). Coincidence?
READ: Victoria's Secret? Missing crown? Unraveling Rabiya Mateo's national costume
Aiming to nab the fifth Miss Universe crown for the Philippines, Rabiya Mateo is under a lot of pressure right now. Plus, Miss Universe Philippines 2019 Gazini Ganados was the last National Costume winner before this year's competition. Fortunately, she's the kind of gal who can easily adapt in order to overcome obstacles, so we have high hopes for her competition run.
READ: Rabiya Mateo falls into pool and makes a literal splash, fans react
If you're curious about the other costumed candidates then check out some of our picks below.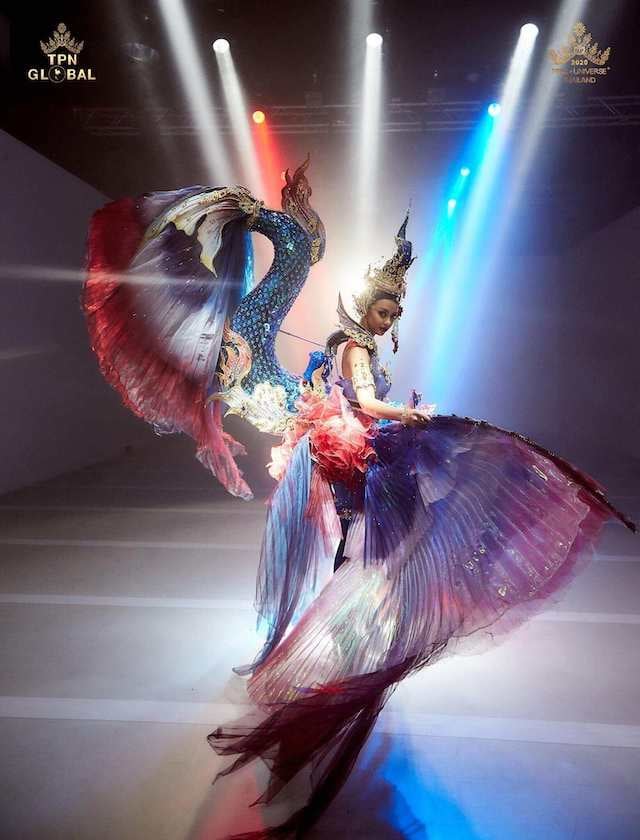 Photo credit: HoneyFatty/Twitter
Miss Thailand, isda you?
Amanda Obdam stuns as a Siamese fighting fish, shining in hues of the Thailand flag! Miss Universe Thailand looks beautiful and ethereal wearing a gown inspired by her country's national aquatic animal. Miss Thailand has quickly become a favorite among fans due to her engaging personality.
WATCH: Miss Universe Thailand Amanda Obdam celebrates Earth Day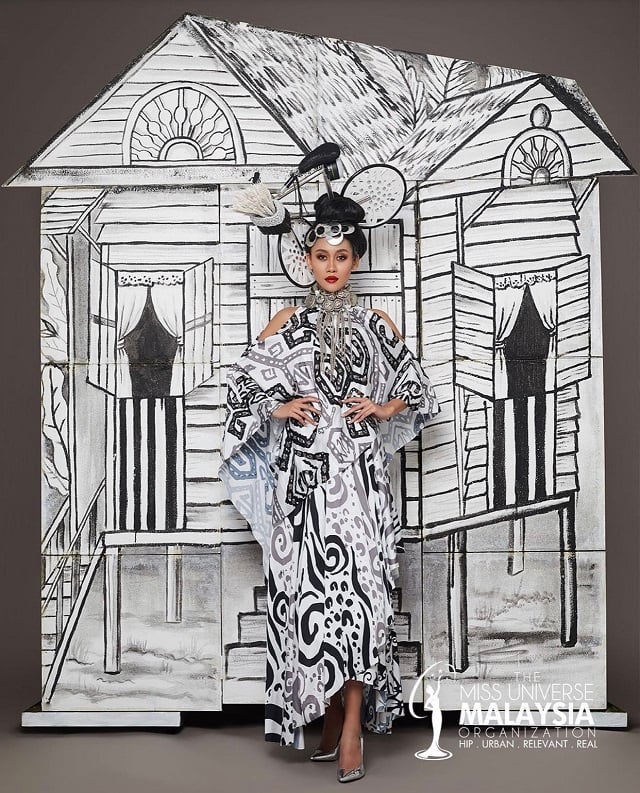 Photo credit: lakwatabachoi/Twitter
Miss Malaysia, dinala ang buong barangay
Ang unang tanong mo siguro ay, "Bahay ka, girl?" Francisca Luhong James' elaborate ensemble was entitled, "My Village,'' inspired by the traditional houses that can be found in Malaysia. Weighing close to 100 pounds, the costume took nearly 3 months to complete and needed three people (the third being Miss Malaysia herself!) to transport the house up on the stage. Kaloka! During her segment, Miss Malaysia entered the makeshift house before quickly changing into a completely different gown.
Photo credit: jihyolucu/Twitter
Miss Indonesia bilang Mother of Dragons
Miss Universe Indonesia Ayu Maulida Putri does a glam version of the famous komodo dragon. The beauty queen's gown is made up of 5,000 scales made of gold, copper, and black gold pieces. Miss Indonesia takes it one step further and even wears green contact lenses to complete the look. Ayu Maulida Putri even performed a graceful dance mimicking the movements of her reptilian peg. There were also red LED lights sewn into her costume, which came alive under the dimmed lights.
READ: Ilabas ang baywang! Rabiya Mateo rumampa with Miss Indonesia and Miss Japan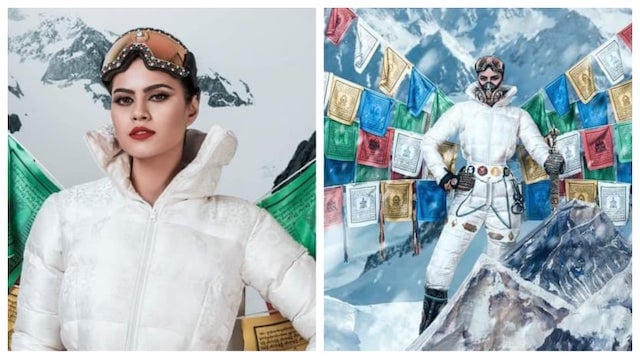 Photo credit: meiilanvisualarts/Instagram
Climb every mountain with Miss Nepal
Anshika Sharma's costume came complete with a moveable mountain, which she brought up on stage. As Twitter user @lazaro_london said, "She can really move mountains!" Miss Universe Nepal's costume is called the "Ode to Mountaineers," dedicated to those who take the ultimate challenge of climbing up to the highest point on Earth, Mount Everest.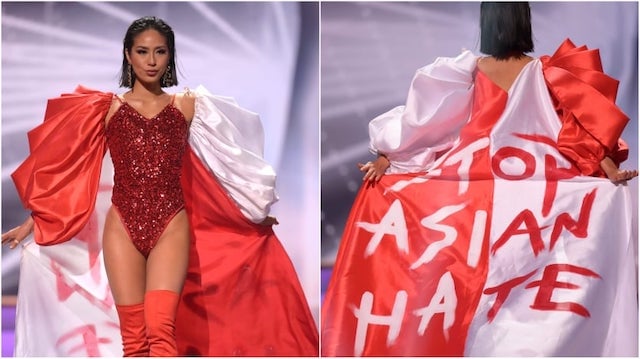 Photo credit: Alexa Villano/Twitter
Miss Singapore is a woke bae
Taking advantage of her platform and influence, Miss Universe Singapore Bernadette Belle Ong, walked the walk and talked the talk. She strutted down the catwalk wearing a glittering red ensemble with red-and-white puff sleeves. In big bold letters on her train, the message read, "Stop Asian Hate." This was very timely considering the rise of hate crimes against Asians. The cape was painted by our very own kababayan, Paulo Pilapil Espinosa, who only had two days to work on the costume.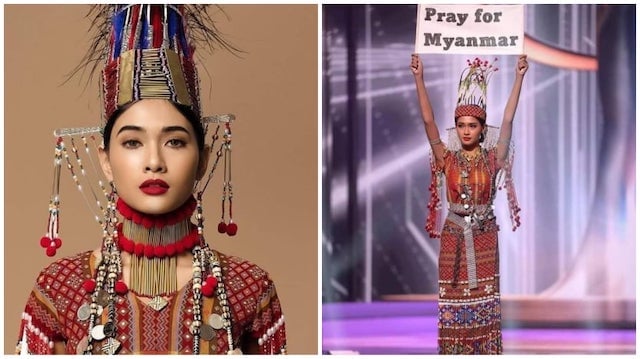 Photo credit: aunglay3333/Twitter
Miss Myanmar, period!
After a shipping mishap, Miss Myanmar Thuzar Wint's original costume was lost. Her original costume was supposed to be a combination of traditional toys Pyit Tine Htaung (an egg-shaped figure) and Thu-Nge-Daw (a marionette doll). The ensemble represents the resiliency attributed to the toys meaning that even when Wint falls down, she'll get back up again.
Thuzar Wint and her team quickly adjusted to the situation with a last-minute change that ended up becoming a real showstopper. Miss Myanmar may have worn a simple traditional garb, but she brought with her a powerful message saying, "Pray for Myanmar."
Wint proudly raised the sign and the crowd went wild! To add more context to her message, Myanmar is currently facing numerous protests, known as the Spring revolution, which began early this year. Kudos to Miss Myanmar for speaking up! She definitely exudes queen energy!
READ: Miss Universe bets Myanmar, Singapore, Uruguay use pageant stage for resistance vs. prejudice, violence
The National Competition was epic but things are about to get more exciting when the Miss Universe pageant takes place on Monday, May 17, Philippine time.
(Make sure to get some beauty rest so you can be ready for the big day.)
Which country's national costume was your favorite? Which one would you wear?
TRY: #TrueMissU TikTok Challenge
Gayahin ang iconic #MissUniverse walk for a chance to win a self-care package from #TrueIDPH! Don't forget to add #TrueMissU sa caption mo. Ready? Rampa na dito sa TrueID TikTok channel.