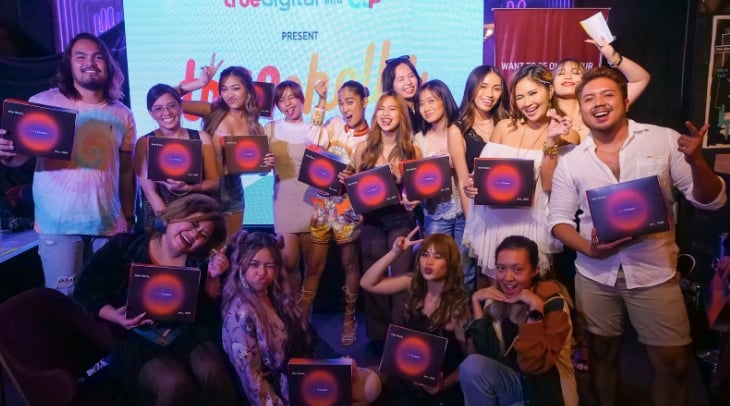 True Creators Studio talents
True Digital and the Creator and Influencer Council of the Philippines (CICP) held a gathering of industry professionals and talents at Yes Please in BGC. The event launched True Creators—the studio services, influencer and multi-channel network (MCN) business of True Digital Philippines.
The event was opened by True Digital's Chief Business Officer and Chief International Officer Marco Guida, as he hyped up the crowd. He welcomed the newly-signed talents of True Digital, saying "Digital consumption in this country is through the roof. All of you play a huge role in shaping people's lives. So I think our role as True Digital for True Creators is to help you do this in the most effective way."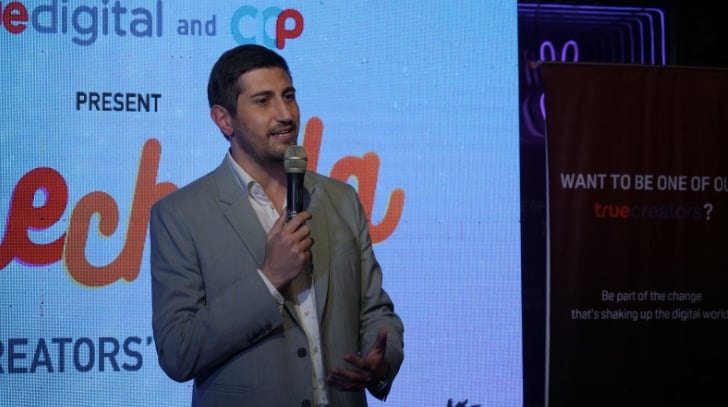 Marco Guida
There was a live fireside chat facilitated by CICP board member Jako De Leon, where he discussed the creator ecosystem in the Philippines with the panelists content creator Bogart the Explorer, influencer & 28 Squared Studios CEO Richard Juan, Unilab Digital Director Jim Guzman, and True Digital Philippines President & CEO Dindo Marzan.
During the fireside chat, Guzman also invited the creators to this year's upcoming BaiCon InFest. "We can't wait to see all of you there. For creators and influencers, think of this as your retreat and to meet your Vismin audience. For brands and agencies, think of it as an opportunity to spot talent," Guzman said.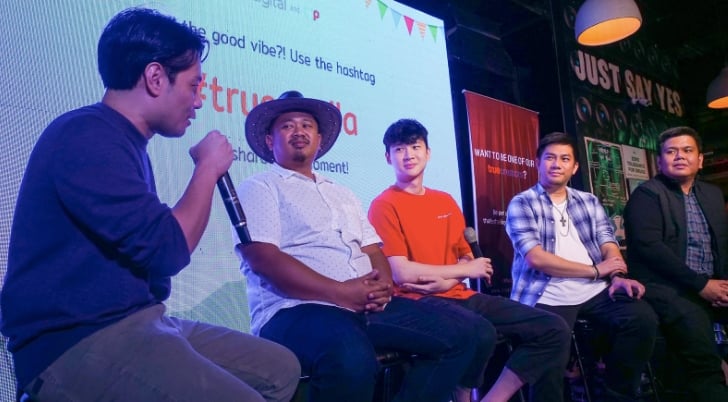 From left to right: Jako De Leon, Bogart The Explorer, Richard Juan, Dindo Marzan, Jim Guzman
The highlight of the night was the introduction of True Creators Studio, which offers to become the content creators' ultimate playground for producing quality and engaging content, as well as launch the website www.truecreators.studio where both brands and creators alike can book services easily. Through the True Creators Studio, brands can conceptualize and create customized videos for their marketing campaigns, website or social media content, internal communications, virtual events and more.
WATCH: True Creators Studio
The company's talent roster was also introduced—consisting of influencers, content creators, and YouTube artists signed up under True Digital Group to collaborate with brands on various projects. "If you partner with True Digital who are present in Thailand, Cambodia, Indonesia, Myanmar and Vietnam, right away you already captured the Southeast Asian market and that's what we want to offer to you," says Marzan as he addressed the creators present in the room.
True Creators Studio can flex some notable members who attended including Rosemarie Vega, Rose "Rappl" Lope, Bunique Soriano, Stephanie Concepcion, Mahalia E, Edmer Guanlao, Christelle De Castro, Maureese Eugenio, Charlize Paras, Joliever James "Garett" Flores, Jay Pudera, Kyla Javier, and Devi Descartin. Former TrueID at Bai Con winners Denise Dar Juan, Jelyn Patricio, and Maan Cayabyab were also part of the roster. Another OG collaborator, Richard Juan, who was mentioned earlier during the fireside chat, is proudly a TCS member. And of course, Hazel Faith and Geca Morales were there and brought the house down with their musical numbers.
Also showcased were locally produced TrueID Original programs, with upcoming titles headlined by some of the signed creators and expected to stream for free in early 2023 via True Digital's very own platform TrueID.
The launch of True Creators bolsters True Digital Philippines' presence in the country, adding to the already existing Digital Solutions business for enterprise clients.