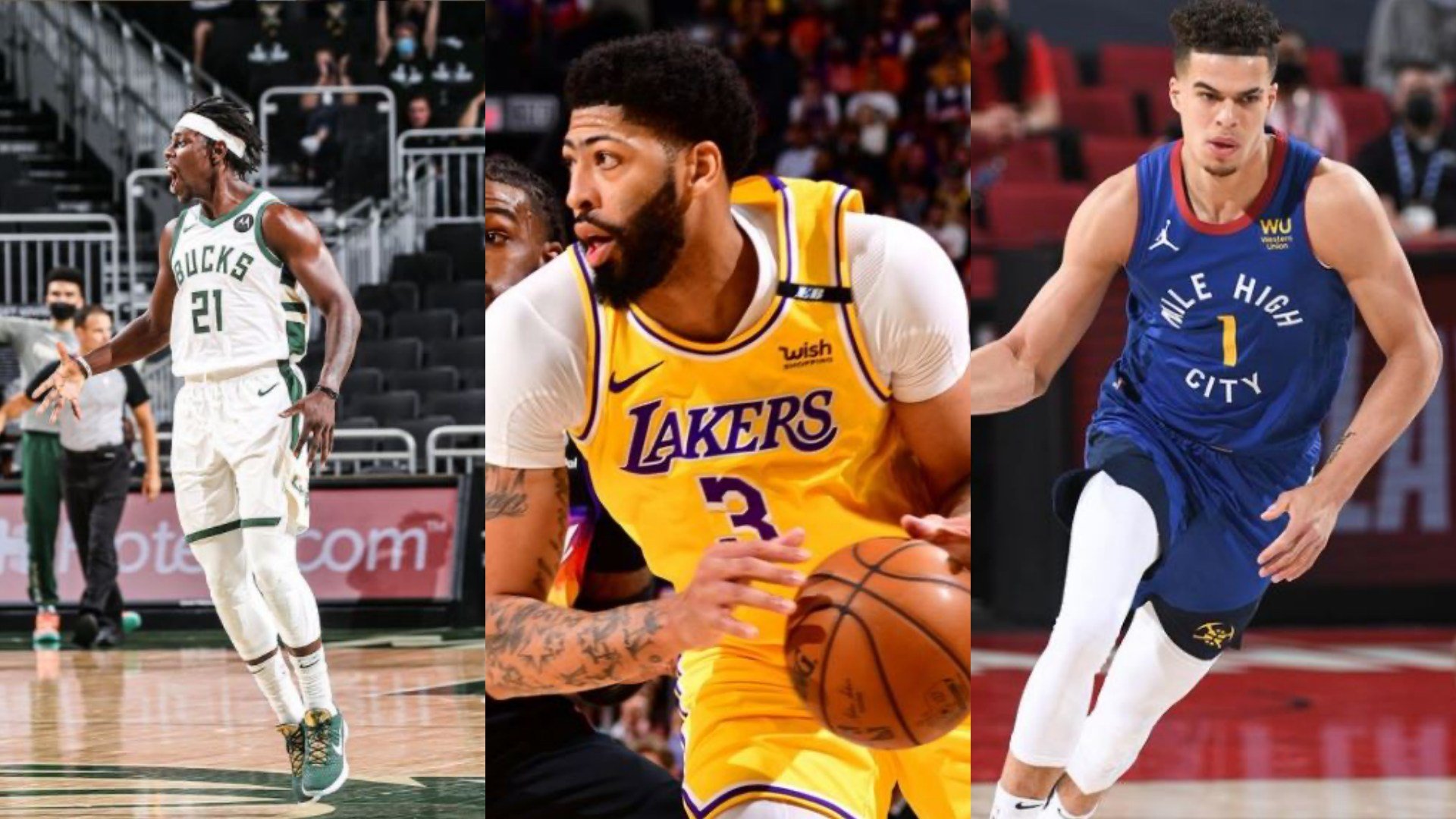 Photo credit: Los Angeles Lakers/Instagram, Denver Nuggets/Instagram, Milwaukee Bucks/Instagram
Another day, another triple-header action in the best basketball league in the world. Let's begin with the defending champions. Heading to their first playoff game in Staples Center since 2012 (that's a long time!), the Lakers were definitely rejuvenated to see their faithful fans cheering them on in the stands.
True enough, LeBron and company made sure they did not go home disappointed, as he led the Purple and Gold to an easy 109-95 win in their best-of-seven series against the Phoenix Suns.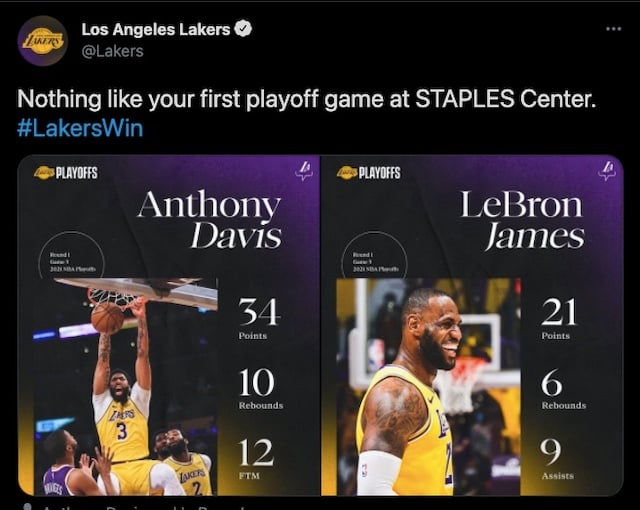 Photo credit: Los Angeles Lakers/Twitter
The King had 21 points, nine assists, and six rebounds, but it was Anthony Daivs who truly punished the Suns with 34 points and 11 rebounds. Davis' skills really helped the team as the Lakers won two straight games following their disappointing outing in Game 1. It's too bad that he is currently out of the game due to a groin injury. Will he be able to recover in time?
Devin Booker had a quiet 19 points on 6-of-19 shooting, while the hobbled Chris Paul was limited to just seven markers. Deandre Ayton was the only one who showed up, pulling in 22 points and 11 boards.
Over to the other Western Conference showdown, the Nuggets and the Portland Trail Blazers also had one win against the other after their first two games.
Early on it looked like Game 3 belonged to the Blazers, when Carmelo Anthony got hot at one point and finished with 17 points. Let's not forget Portland's scary backcourt of Damian Lillard and CJ McCollum who combined for 59 markers.
That Blazer team has so much firepower!
But then again, the Nuggets have a Joker. MVP frontrunner Nikola Jokic recorded his third straight 30+ point playoff game, tallying 36 points, 11 rebounds, and five assists.
READ: Jokic refused load management, remains active until playoffs
He also got some unlikely help from bench player Austin Rivers, who dominated during the fourth period and finished with 21 points.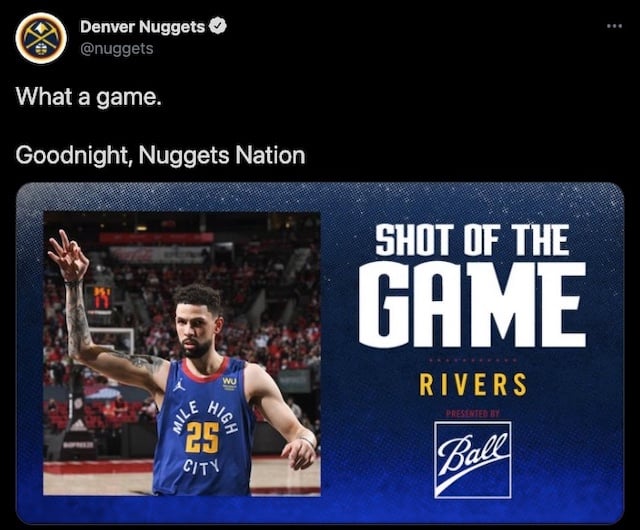 Photo credit: Denver Nuggets/Twitter
Like the Lakers, the Nuggets were also able to net two straight wins after losing Game 1. They escaped with a 120-115 win at Moda Center. So far, these two teams have been neck-and-neck in the first three games.
Moving on to the East, Giannis Antetokounmpo and the Bucks are now one win away from bringing out the brooms against the Miami Heat.
After completely annihilating the defending East champions in the first two games, the Bucks once again showed no mercy, running away with a 113-84 win.
READ: Bucks bulldozed the Heat, Nuggets tied with Blazers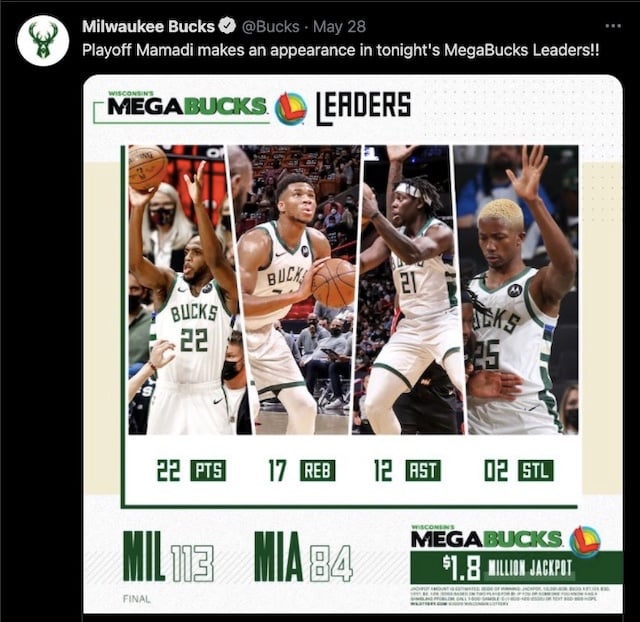 Photo credit: Milwaukee Bucks/Twitter
Come on, Miami! At least put up a decent fight! It was again a total team effort for the Bucks who had seven players finish in double-figure scoring. Khris Middleton led the way with 22 points, eight rebounds, and five dimes, while Jrue Holiday added 19 points and 12 assists.
READ: How to cope when you're feeling salty about your NBA team's losing streak
By the looks of it, teams in the East should really #FearTheDeer this year.
So, which win was the most impressive one for you?