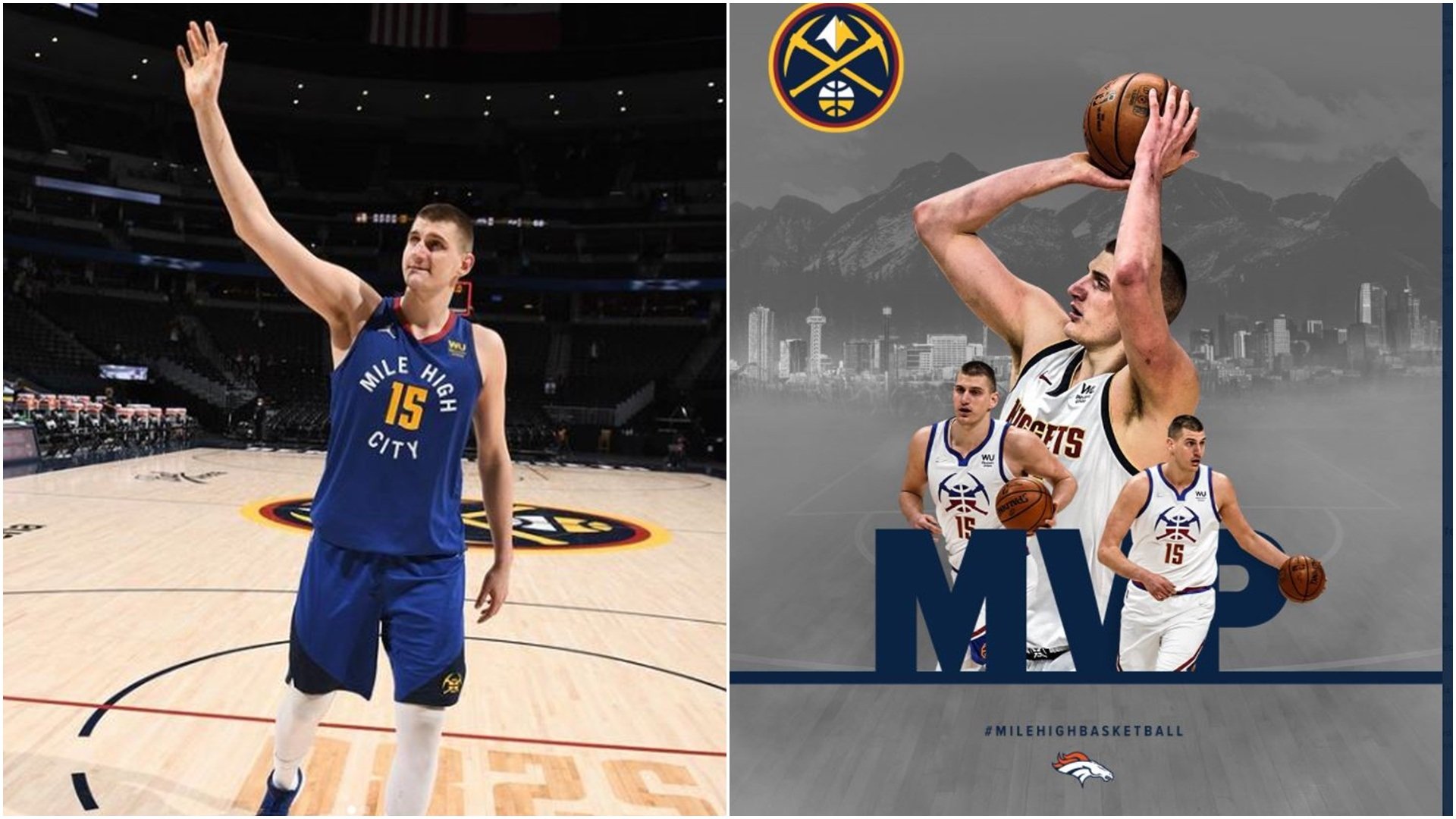 Photo credit: Denver Nuggets/Instagram and Denver Broncos/Twitter
Uwian na, may nanalo na! Nikola Jokic was named the 2021 NBA Most Valuable Player of the Year. The Denver Nuggets superstar received 91 of the 101 first-place ballots cast coming from a panel of sportswriters and broadcasters who cover the league. He bested fellow superstar center Joel Embiid, who finished second and Stephen Curry who placed third.
READ: Game on! NBA reveals finalists for the end-of-season awards
ALSO READ: Stephen Curry believes that he can be MVP this season
Giannis Antetokounmpo, Chris Paul, and surprisingly, even Derrick Rose received MVP votes.
Jokic has done a lot of heavy lifting for the Nuggets this season. He came into training camp in the best shape of his life and continued to be great even when Jamal Murray went down due to a season-ending surgery.
READ: Nikola Jokic refused load management, remains active until playoffs
Unlike last year when the Serbian figured in a slow start, Jokic separated himself from the pack from the get-go this season. He led the Nuggets to almost every major statistical category, averaging incredible numbers of 26.4 points, 10.8 rebounds, 8.3 assists, and 1.3 steals in 72 regular season games.
READ: Davis' last full game before injury, Nuggets win and Bucks nearing sweep
ALSO READ: Bucks bulldozed the Heat, Nuggets tied with Blazers
He won the award in a historical fashion as well.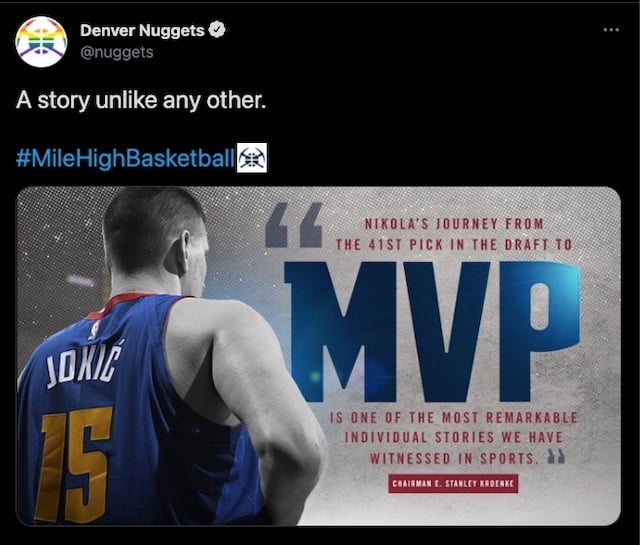 Photo credit: Denver Nuggets/Instagram
From 41st draft pick to MVP? That's one major leap! Back then, the burly center was just an afterthought at the 2014 Draft where he was ranked low. Who knew that he would become the real MVP from that draft? In the end, the Joker eventually got the last laugh.
Jokic also proved that the center position in the league is not dead. He became the first center to win MVP since the great Shaquille O'Neal in 2000.
Jokic now joins a prestigious company of international players to win the award, which includes Giannis Antetokounmpo, Steve Nash, Hakeem Olajuwon, and Dirk Nowitzki.
Two years ago, the late Kobe Bryant even challenged Jokic to win MVP one day. Not only did he accomplish Byrant's request, Jokic also tied Kobe on being only the second MVP to play all regular season games.
READ: Legends only! This year's Basketball Hall of Fame event hits differently
Dang, who's chopping onions?
Oh, and Jokic will be eligible to sign a supermax extension with the Nuggets this summer. It is expected to be the BIGGEST supermax in NBA history.
The Joker is about to make some major cash money!
Anyway, Curry and Embiid fans are probably still feeling salty over Jokic's MVP win. What do you think about Jokic's MVP season? Is he deserving of the title?