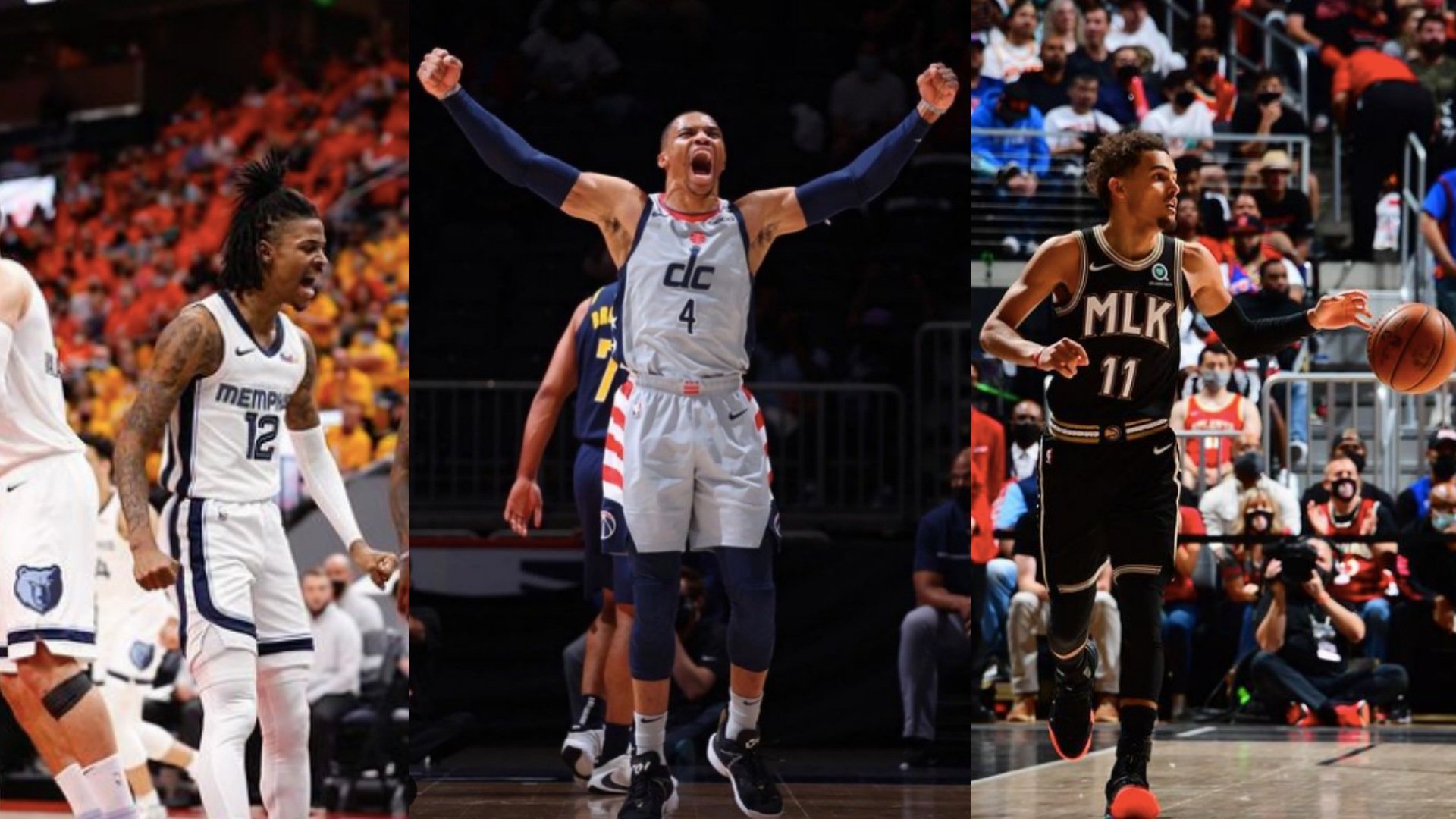 Photo credit: Ja Morant/Instagram, Russell Westbrook/Instagram, Trae Young/Instagram
As COVID-19 restrictions in the US continue to ease (sana all!), sports arenas have gradually allowed fans back into the stadium right in time for the NBA playoffs.
After all, the game isn't the same without the fans cheering their lungs out for their home team.
On the other hand, having a rabid fandom also has its drawbacks. For instance, it also opens the floor for some cringe-worthy unruly behavior from intense supporters.
Such was the case when the New York Knicks, Philadelphia 76ers, and the Utah Jazz, all gave lifetime bans to several fans after displaying untoward behavior directed at the opposing teams' players. Ang gulo!
One Sixers fan caused quite the commotion after he dumped popcorn on Russell Westbrook's head as he was returning to the locker room. Get this, Brodie was on his way to get his ankle checked after suffering an injury.
READ: Jazz and Knicks even up their series, Sixers take the commanding lead
The Sixers brass took quick action and revoked the fan's season tickets. Buti nga sa'yo!
The Knicks also handled another bastos fan who decided it was a good idea to spit at the general direction of Trae Young. Ang lakas ng loob!
Aside from the total sign of disrespect, that dude was totally unhygienic plus, it's pandemic season. Now the guy is banned from Madison Square Garden—LOL bye!
The Jazz also had to punish three disruptive fans who harassed Ja Morant's family at the stands. According to Morant's father, Tee, a group of guys made sexually explicit remarks toward his wife and racial comments to his family. Ugh. Not cool!

Photo credit: Tim Reynolds/Twitter
Dude, where is the respect? These "fans" need to learn some manners. Umayos nga kayo!
We understand how fans can really get into the competitive spirit of the game. However, that doesn't mean that you get to cross the line between decency and downright trashy behavior.
Grabe, yung ugali na parang "nakawala sa hawla," in the truest sense of the term. Ayan tuloy, banned for life!
Sure, they're part of the rival team but remember that tao rin sila, guys. Nasasaktan din.
At the end of the day, it's just a game! So why can't we all just sit back and enjoy the show?
READ: How to cope when you're feeling salty about your NBA team's losing streak
What's the most kalat fan moment that you've ever seen during a basketball game?