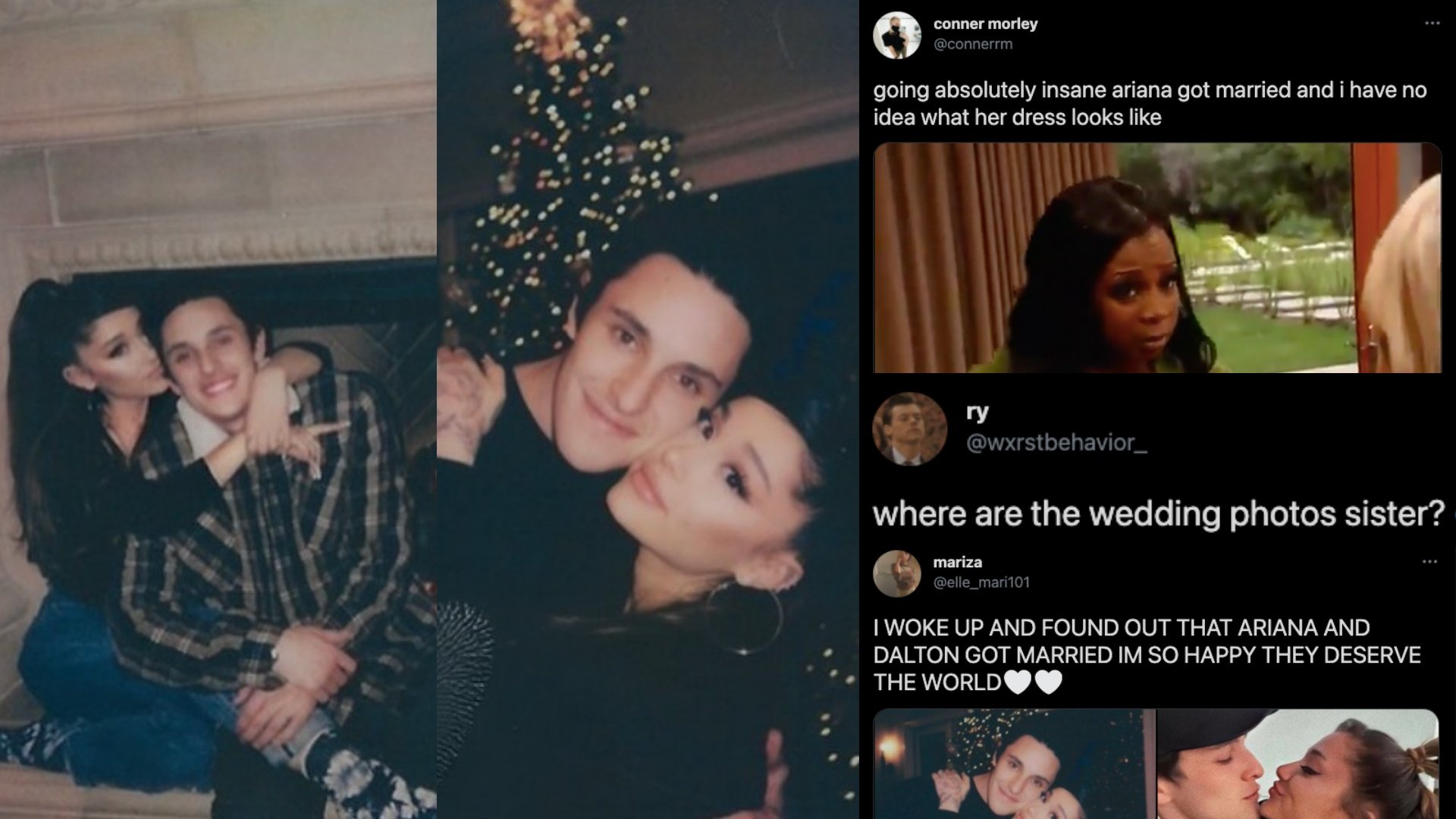 Photo credit: Ariana Granda/Instagram, connerrm/Twitter, wxrstbehavior/Twitter, elle_mari101/Twitter
On this day, Arianators everywhere were gagged, gooped, and bewildered upon hearing that their idol just got hitched. Say what?!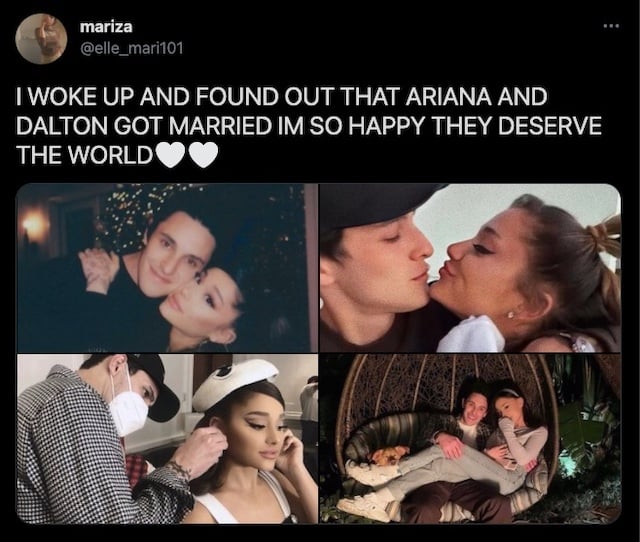 Photo credit: elle_mari101/Twitter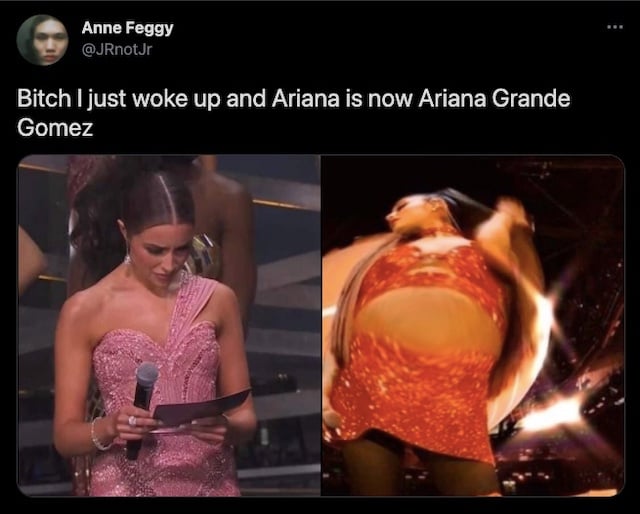 Photo credit: JRnotJR/Twitter
That's right, the popstar married real estate agent Dalton Gomez in an intimate, low-key wedding ceremony with fewer than 20 people in attendance. The couple was married at their home–which we are sure is gorgeous since Gomez is a real-estate agent after all—in Montecito, California.
Ariana Grande's rep confirmed the good news in a statement saying, "They got married. The room was so happy and full of love. The couple and both their families couldn't be happier."
The couple started dating in early 2020, even going into quarantine together. (Awww!) After all, if you can survive being stuck together 24/7 without stressing out too much then they might have life partner potential. Grande and Gomez have been very private about their relationship, quietly announcing their engagement last December. So yes, fans had a bit of a heads up but they didn't expect that it would happen so soon without any fanfare.
Now that it's confirmed that the singer got married, Arianators are curious regarding each and every detail of the wedding.

Photo credit: wxrstbehavior/Twitter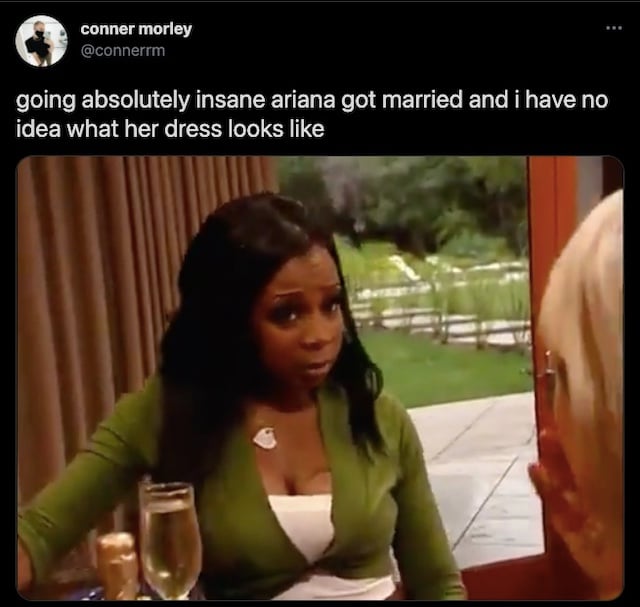 Photo credit: connerrm/Twitter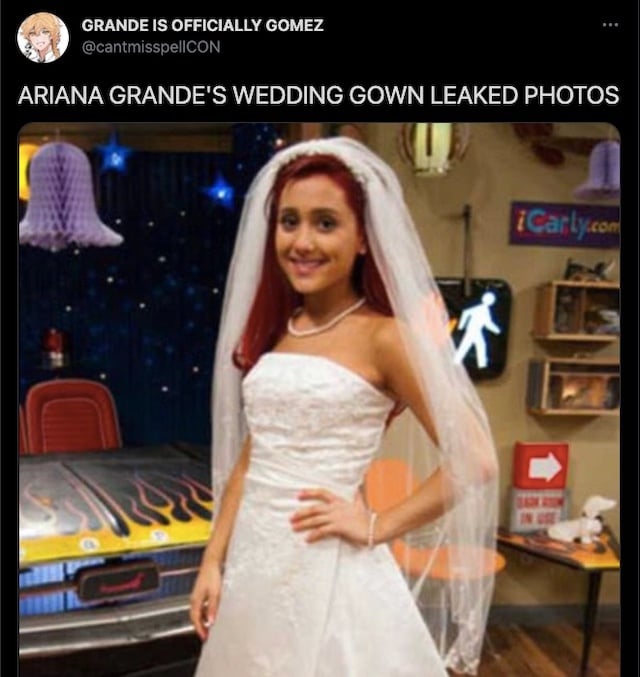 Photo credit: cantmisspellCON/Twitter
We haven't seen any official photos or any hints from designers and suppliers as of this writing. However, it's only a matter of time until the Internet detectives solve this mystery.
However, the most important thing to do as a fan is just allow Ariana Grande and Dalton Gomez the private space to enjoy their newly married life.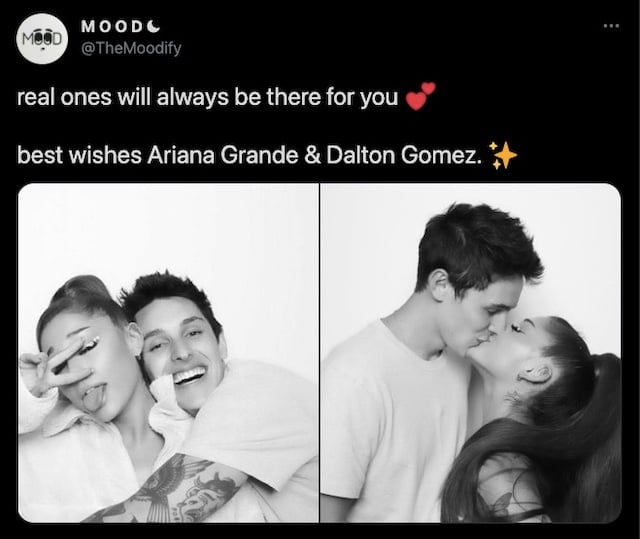 Photo credit: themoodify/Twitter
In the meantime, you can lend your support for Ariana Grande in the Billboard Music Awards since she is nominated for Top Social Artist. (You can make that your wedding gift to her!)
READ: Rock the vote! Who's your Top Social Artist for the Billboard Music Awards?
You can also watch Ariana Grande judge on The Voice very soon!
READ: Ariana Grande to replace Nick Jonas on The Voice
Congrats, Ari and Dalton! Mabuhay ang bagong kasal!