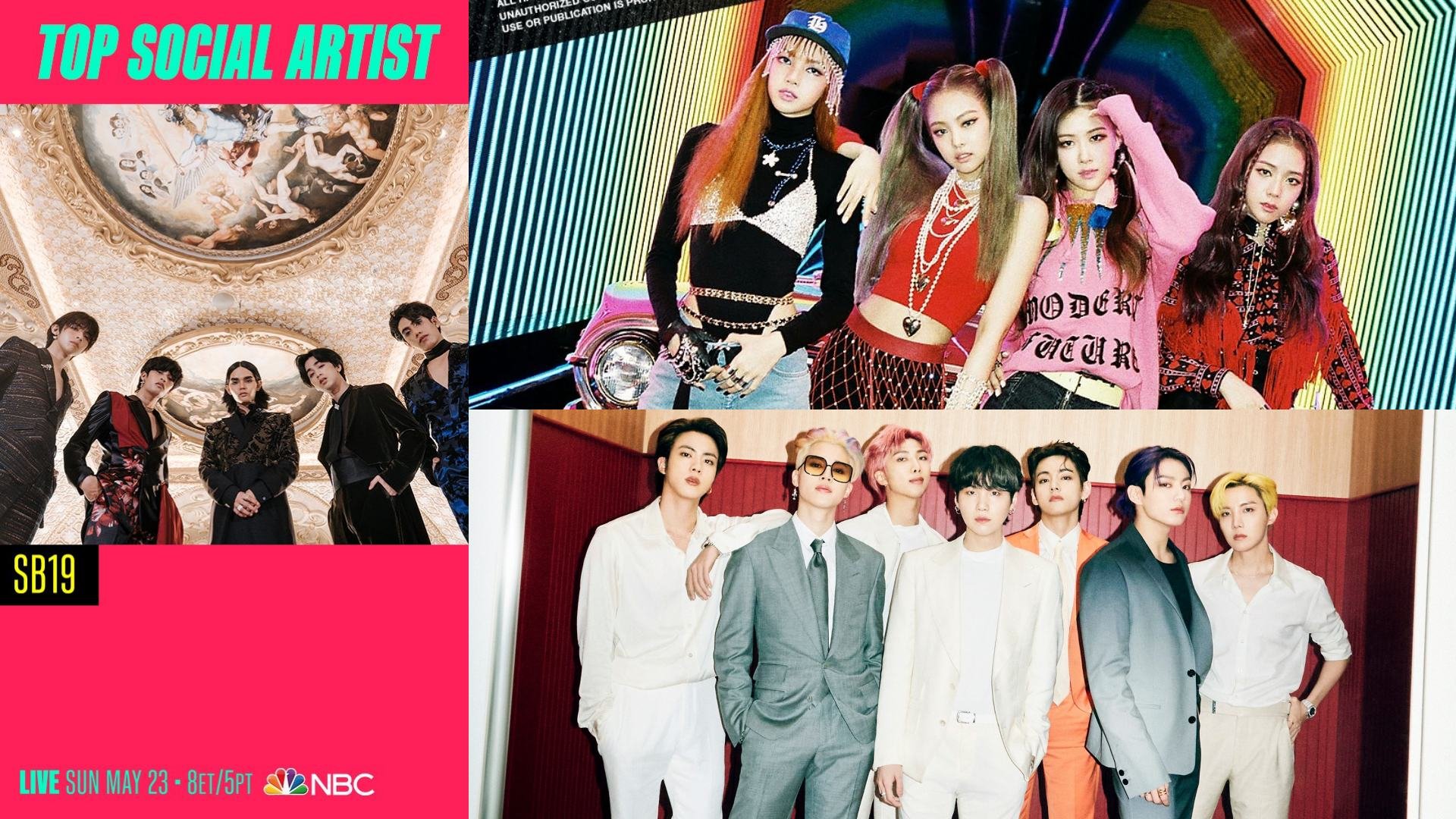 Photo credit: SB19/Twitter, Blackpink/Facebook, BTS Official/Twitter
Voting is officially open for the Billboard Music Awards (BBMAs) and the music fans have their game face on para sumabak sa labanan online.

Photo credit: Billboard/website
The results for the categories Top Social Artist and Top Collaboration will be based on fan votes on Twitter and on the Billboard website. Fans can also vote for their biases via Twitter using the following formats:
#BBMAsTopSocial + @FinalistTwitterHandle
#BBMAsTopCollab + Collaboration
So what makes the 2021 BBMAs an exciting competition? This year, the majority of online buzz is focused on Top Social Artist because it's dominated by Asian acts such as K-POP groups BTS, Blackpink, and Seventeen. Plus, we've got our very first Filipino nomination in the form of SB19 representing our country as well.
ICYDK: both K-POP and SB19 stans can be very hardcore when it comes to supporting their favorite groups. In fact, A'TIN was already campaigning way before the voting opened for the public.
READ: SB19 drops MAPA logo while A'TIN starts campaigning for the BBMAs
We can almost imagine the keyboards heating up from the sheer intensity of the typing. If you haven't voted yet, now is your chance to review the list of candidates. (Wew. Eleksyon talaga ang peg?!)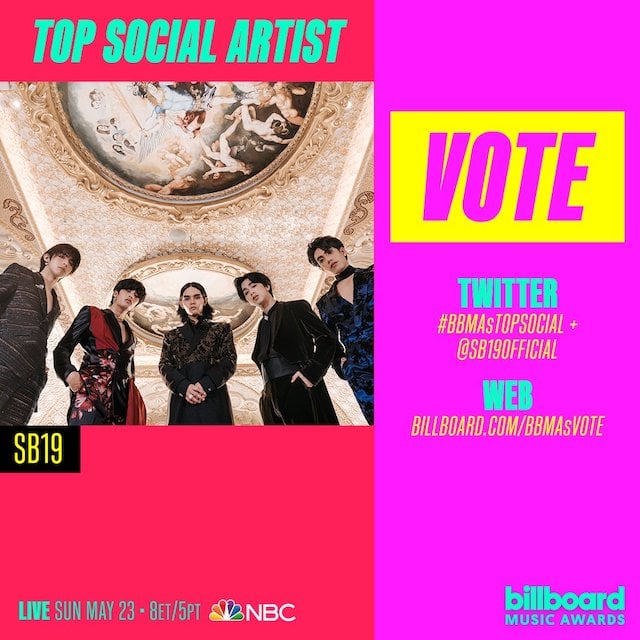 Photo credit: SB19/Twitter
SB19
The P-POP boy band is #PinoyPride personified and has been promoting our culture on the global stage. It's already such a great honor for these world-class boys to be among the top acts chosen in this category. Wouldn't it be great to have one of our own claim the award?
READ: A'TIN ito! Why SB19 deserves this Billboard Music Awards nomination
Photo credit: BTS Official/Twitter
BTS
The Bangtan boys are practically everywhere. Even non-K-POP fans can easily recognize the OT7 and their hit, "Dynamite." BTS has not only dominated the highly competitive U.S. music scene but have also extended their influence to other industries such as food, fashion, and beyond.
WATCH: Follow BTS' journey to becoming K-POP's global ambassadors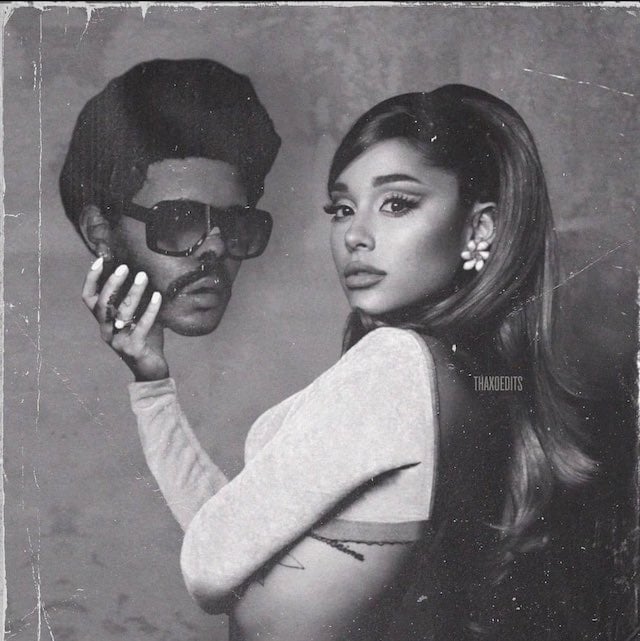 Photo credit: Ariana Grande/Twitter
Ariana Grande
Hindi namin alam how the artist/actress balances everything dahil maraming siyang ganap sa buhay, recently becoming the newest judge on The Voice. We can also agree that her songs are a bop and she does the most epic collaborations. (Hello lang kay Lady Gaga, diba?) and high-production ang mga videos niya. There are even rumors circulating that the singer might have a joint project with fellow nominee BTS. LGBTQ ally pa si girl and super sweet to her fans so what's not to love about her? We totally get why fans are obsessed with her online.
READ: Ariana Grande to replace Nick Jonas on The Voice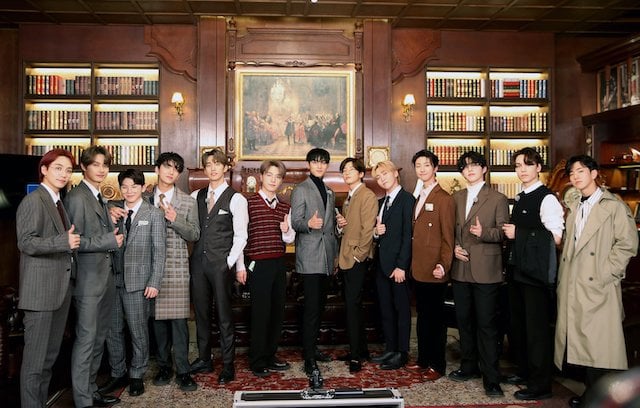 Photo credit: Seventeen/Twitter
Seventeen
This 13-member K-POP boy band may be young but they have the passion and energy to make it far in the industry. Seventeen relates to the Gen Z culture, which is probably why they have a massive following on the Internet. They're not just talented performers but they're woke, too, with two of its members releasing a special track to aid a foundation.
READ: Seventeen's JunHao release a cute charity single called "Missed Call From Mom"
Blackpink
Makita mo lang ang feedback tungkol sa The Show online concert and gets mo na agad ang kamandag ng Blackpink. Yung track mula sa pa-solo album effort pa lang ni Rosé got a million hits, what more with all their powers combined? If you need more evidence of Blackpink's charm then check out the Running Man episode below.
Based on the list of nominees, all groups will be facing some fierce competition as their fans battle for music supremacy.
For those curious about the nominees for Top Collaboration, check them out below:
24kGoldn featuring iann dior, "Mood"
Gabby Barett featuring Charlie Puth, "I Hope"
Chris Brown featuring Young Thug, "Go Crazy"
DaBaby featuring Roddy Ricch, "ROCKSTAR"
Jack Harlow featuring DaBaby, Tory Lanez, and Li'l Wayne, "WHATS POPPIN"
The voting ends on May 21 so you better start supporting your bias right now. The final result will be announced during the event proper on May 23.
Which group gets your vote?