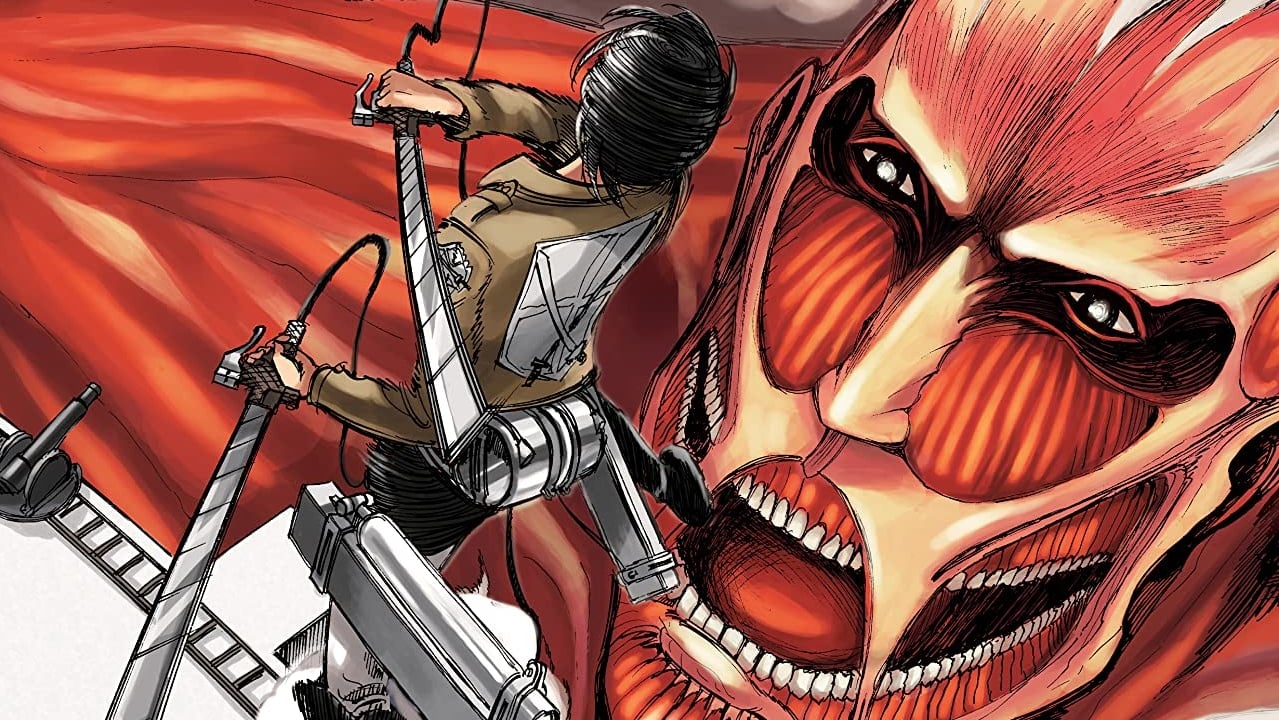 Photo credit: Kodansha USA Twitter page
If you are an Attack on Titan (Shingeki no Kyojin) fan and you have reached the final story arc in either the manga or the anime, then you should already expect a world of emotional pain. (More like an attack on our feels, right?) And if you haven't read the latest manga chapter or would prefer to remain spoiler-free until the anime catches up, then you should turn back right now.
For those willing to get spoiled, we'll try to spare most of the details and only discuss the highlights.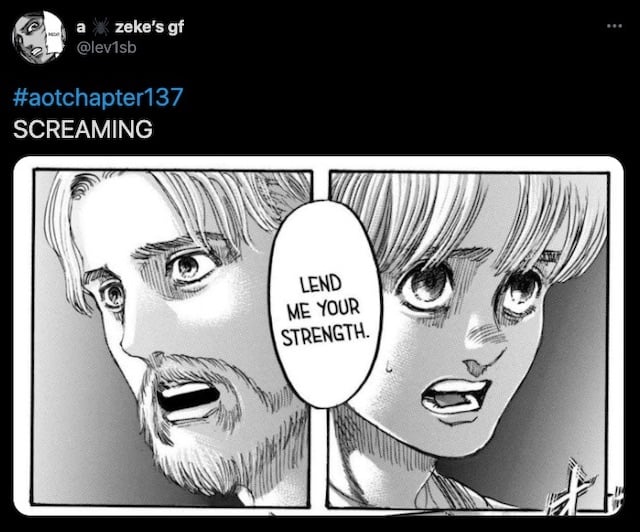 Photo credit: lev1sb Twitter page
So the major characters have to stop a cataclysmic event from occurring called the "rumbling." But how do they prevent a world-ending attack when it's launched by none other than Eren Yeager himself? Armin has a plan.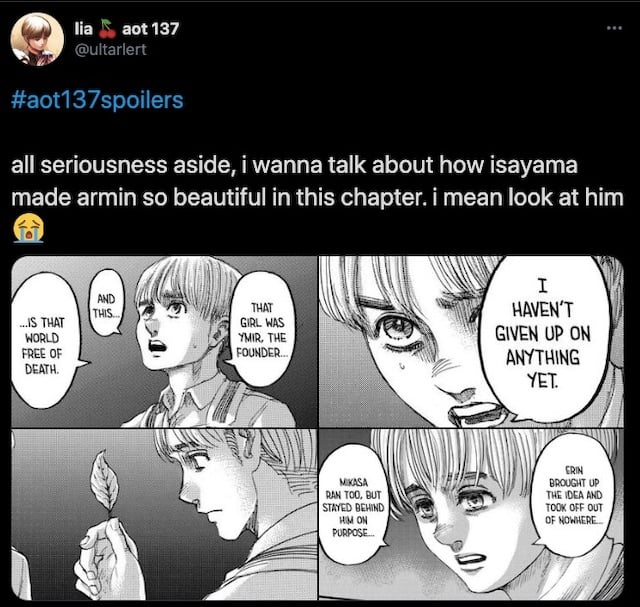 Photo credit: ultarlert Twitter page
The chapter not only contains well-drawn battle sequences but also a lot of introspective moments, which allow you to breathe. Armin and Zeke contemplate on having a destined purpose, suffering an immortal existence, and how knowing there's an end gives life more meaning. By sharing this conversation, Armin was able to successfully convince Zeke to help cease the "rumbling." (Only these characters could turn a sand castle-building session into a philosophical pursuit.)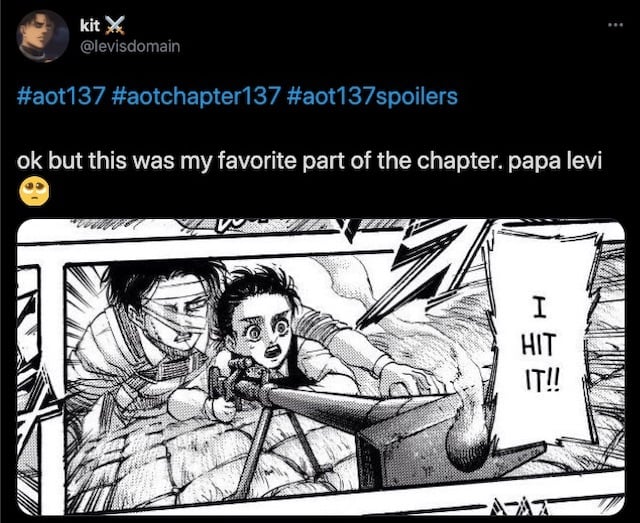 Photo credit: levisdomain Twitter page
Meanwhile, Levi is also at the battlefront assisting Gabi with the artillery. For the anime-only viewers willingly spoiling themselves, yes, that is the infamous Gabi who caused the death of Sasha Blouse. While you may still have conflicting feelings due to this tragedy, perhaps seeing Gabi fight on the same side might make you curious about her character development.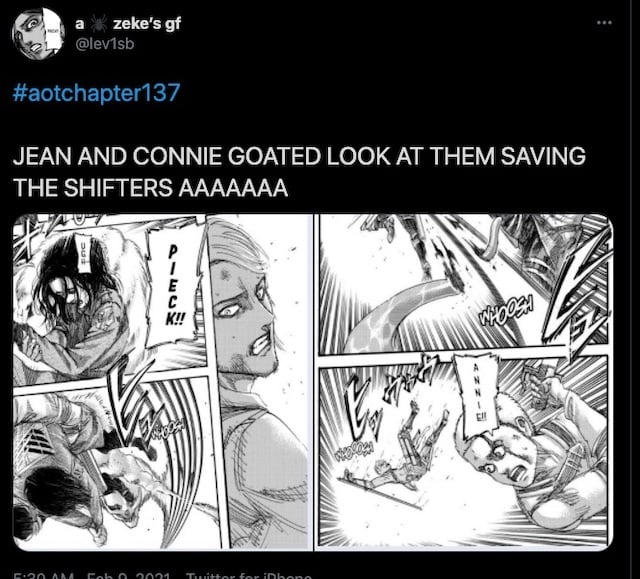 Photo credit: lev1sb Twitter page
Jean and Connie being their usual overpowered selves without needing any Titan help. Also happening in this chapter is one of the most epic comebacks for the ages, the past Titan users return to lend a hand. There's Marcel, Ymir, Grisha, Galliard, and Bertholdt looking like they are ready to rumble, well, more like stop the "rumbling."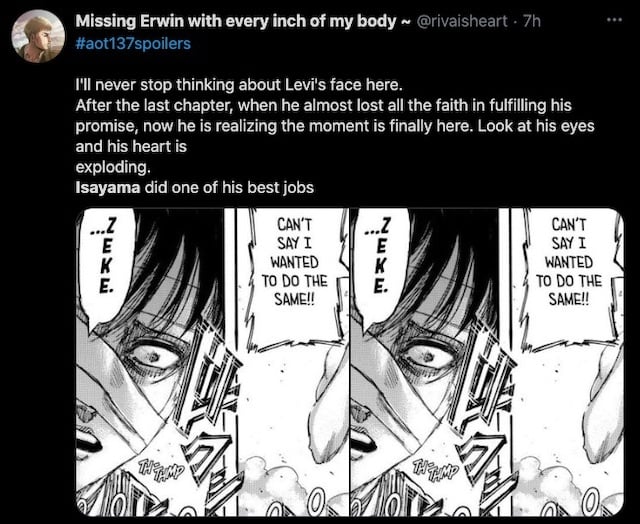 Photo credit: rivaisheart Twitter page
More importantly, Levi Ackerman finally fulfilled the promise he made to his dear commander Erwin Smith and finally slayed the Beast Titan. While it was a long time coming, we never had any doubt considering the strength of the Ackerman supremacy. However, it was a bittersweet victory since Zeke wanted to give up his life to save humanity. You could really connect to Levi's reaction just by seeing his expression alone.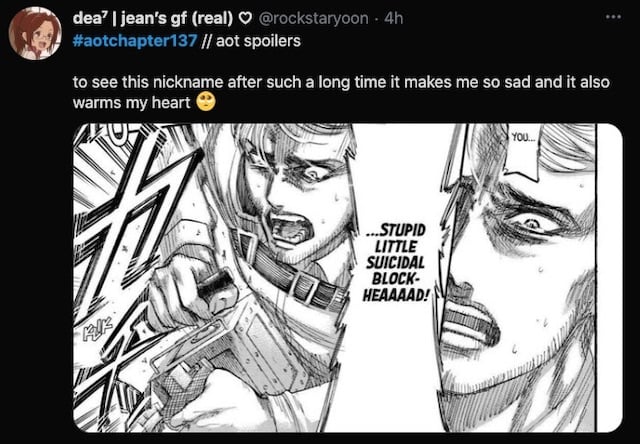 Photo credit: rockstaryoon Twitter page
Oof. This scene was a nostalgic callback to Jean's nickname for Eren when they used to squabble as frienemies. Now it takes on a more emotional tone as Jean charges to destroy Eren's Titan form.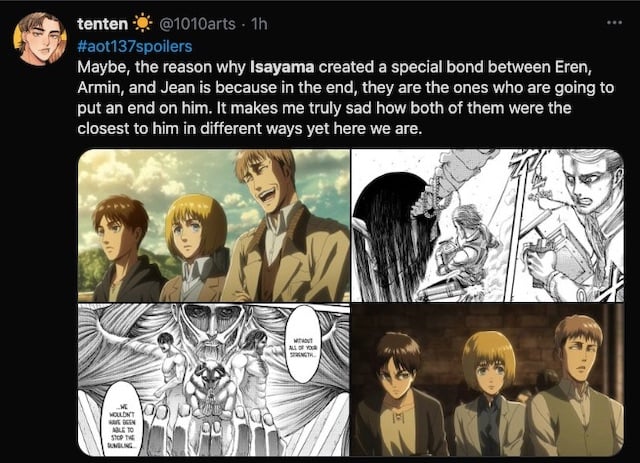 Photo credit: 1010arts Twitter page
This is probably the earth-shattering anime version of stopping a close friend from making questionable decisions and wanting to guide them in the right path.
Photo credit: bb22hie Twitter page
Just thinking about how long-time friends must use drastic measures to save the world and save their best friend from destruction just hits us way too hard. (It's way too early to be crying!) We just want to go back to simpler times when Eren, Mikasa, and Armin were happily playing as kids.
Photo credit: aneesafai Twitter page
Eren's current status is marked unknown as the chapter doesn't confirm whether he survived the attack or not. But since we still have two more chapters left to wrap up this series, who knows what else might happen? Knowing how creator Hajime Isayama rolls, we're sure that it's going to be a wild ride until the end.
After all the heartache, we're sincerely hoping for a Shiganshina trio reunion and happy ending for everyone involved in the story.