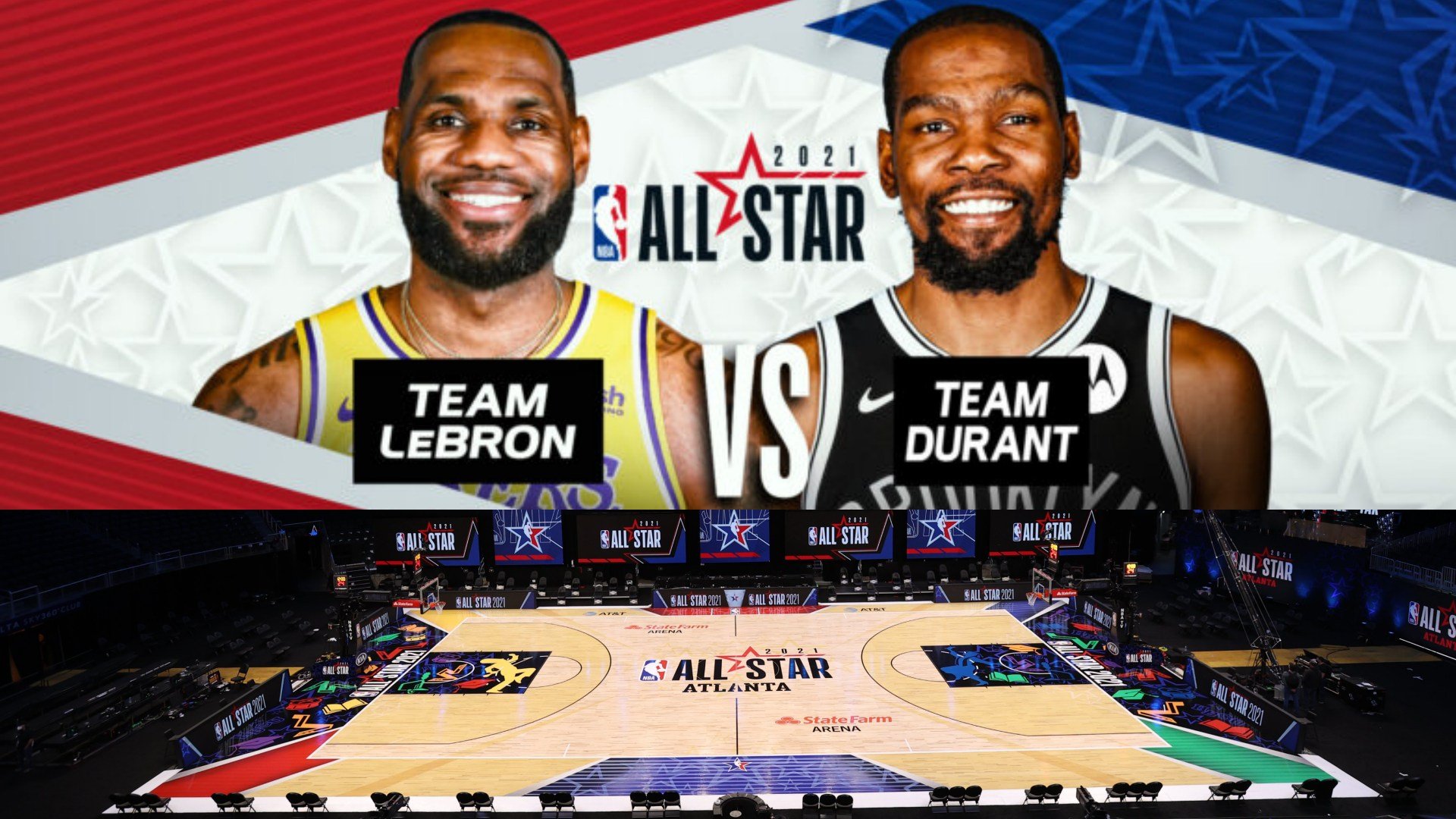 Photo credit: NBA website and NBA Twitter page
All the draft speculations and heated debates from the past few weeks has led up to game day itself. And the NBA nation is more than ready to watch a fierce battle for dominance on the basketball court. So who did team captains LeBron James and Kevin Durant recruit for their respective crew? Let's find out!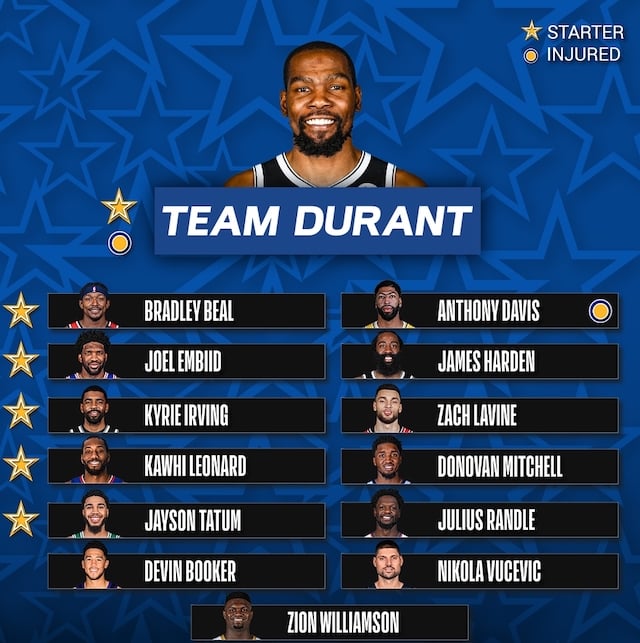 Photo credit: NBA Twitter page
With team captain KD still recovering from a hamstring injury, we can now only rely on his drafting skills as Durant builds a formidable team under his name. You've got Bradley Beal (Wizards), Joel Embiid (76ers), Kyrie Irving (Nets), Kawhi Leonard (Clippers), Jayson Tatum (Celtics), James Harden (who recently joined the Nets), Zach Lavine (Bulls), Donovan Mitchell (Jazz), Julius Randle (Knicks), Nikola Vucevic (Magic), and Zion Williamson (Pelicans). And as previously reported, Devin Booker (Suns) was drafted to replace an injured Anthony Davis (Lakers) in the team lineup.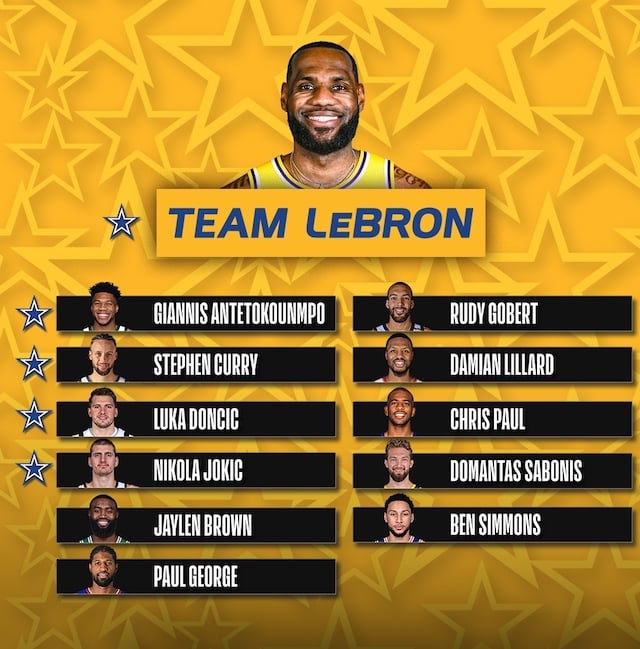 Photo credit: NBA Twitter page
With LBJ's skill in spotting talent, James was able to assemble his own Avengers-style super team (aside from his cartoon crew in the Space Jam sequel). Under King James' rule are Giannis Antetokounmpo (Bucks), Stephen Curry (the Dubs), Luka Doncic (Mavericks), Nikola Jokic (Nuggets), Jaylen Brown (Celtics), Paul George (Clippers), Rudy Gobert (Jazz), Damian Lillard (Blazers), Chris Paul (Suns), Ben Simmons (76ers) and Domantas Sabonis (Pacers), who joined the All-Star pool just in time as a replacement for the injured KD.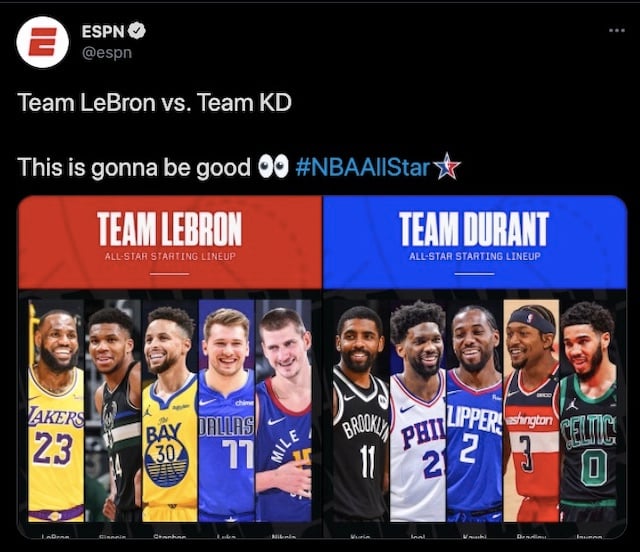 Photo credit: ESPN Twitter page
We've also got our starters for the game with Team LeBron (forward) consisting of Antetokounmpo (forward), Curry (guard), Doncic (guard), and Jokic (center). As for Team Durant, there's Irving (guard), Embiid (center), Leonard (forward), Beal (guard), and Tatum (forward). So it's going to be interesting to see how this plays out, especially when you add past rivalries and team loyalties into the mix… plus, your resident salty sports fans. And now we're wondering if there has been any animosity brewing now that the first game fast approaches. Check out what the team captains have been saying:

Photo credit: Kevin Durant Twitter page

Photo credit:LeBron James YouTube channel
These ballers are clearly above the trash talking that's been going on online and have instead been kicking back with Drake's new track, "Scary Sounds 2." Just dudes being bros.
NBA All-Stars Game 1 is happening on March 8, 2021 at 9:00am, Philippine time. Do you think that LBJ and KD chose the right players?