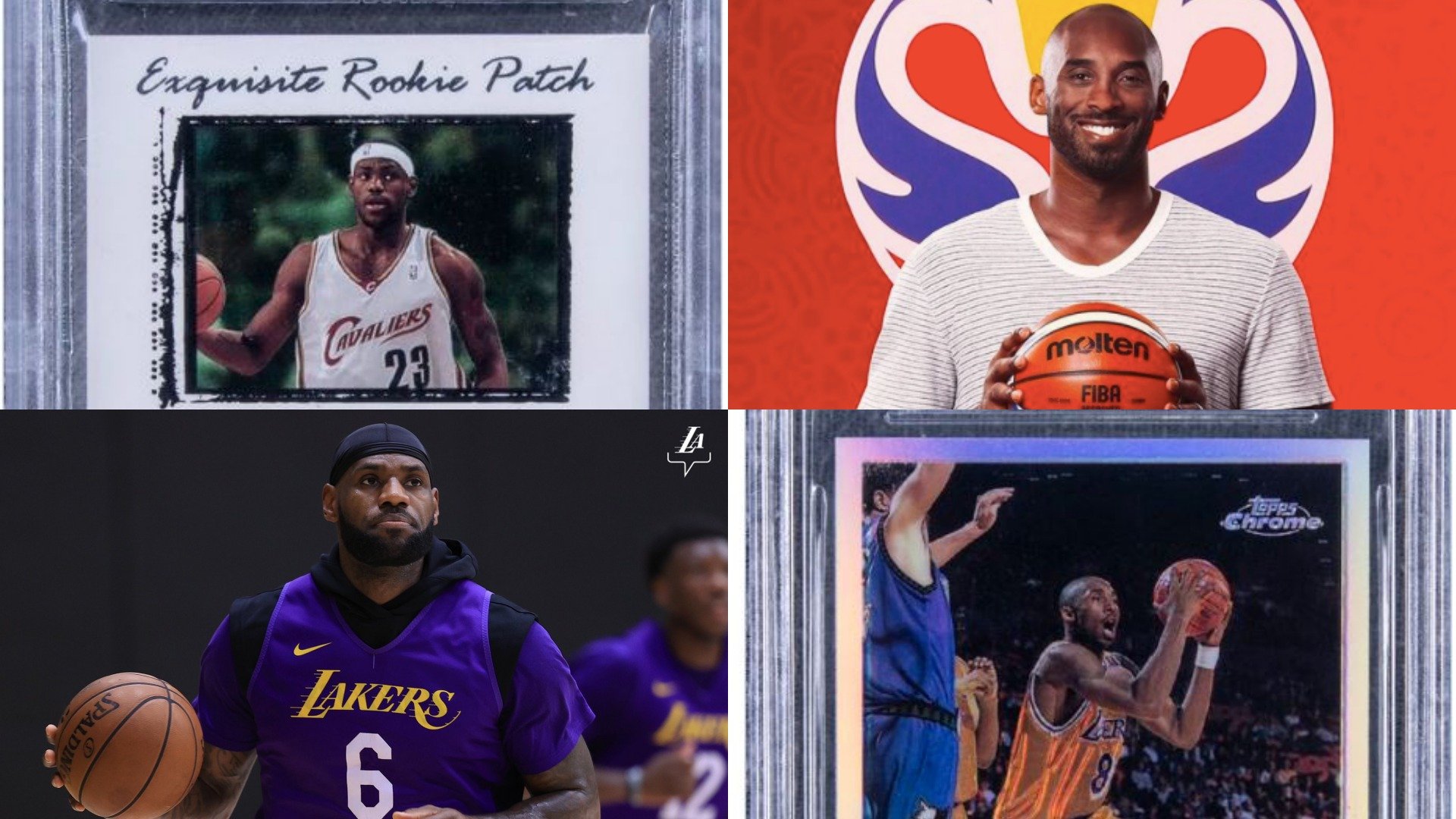 Photo credit: GoldinAuctions/Twitter, Los Angeles Lakers/Twitter, Kobe Bryant/Twitter
NBA trading cards are popular again? What year is this?! Before the 2k video game series and NFT tokens took over our lives, card collecting was the big thing back in the '90s. Eventually, the hype train screeched to a halt and basketball trading cards became a hobby for a niche group of devoted collectors.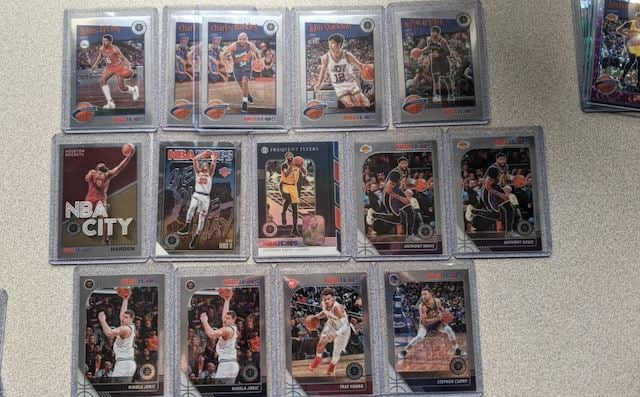 Photo credit: ReinekingBrian/Twitter
Well, guess who's laughing all the way to the bank now? Basketball trading cards are now experiencing a resurgence with NBA variants selling at crazy expensive prices. That's right, card owners are now buying and selling their collectibles as if they're trading at the stock market. Even the NBA players featured on the cards themselves have noticed the lucrative opportunity of preserving their likeness in card form.
In fact, reigning NBA MVP Giannis Antetokounmpo recently mentioned his growing collection of Greek Freak trading cards. Even The King himself, LeBron James, was in awe of how much someone paid for them and kept his own cards. The fact that multimillionaire athletes themselves are joining in the fun shows just how much of a big deal card collecting has become.
With Italian company Panini Group taking over the licensing rights to manufacture and commercialize basketball cards, several cards featuring current players have already sold for staggering amounts. Let's check out some of the most expensive NBA cards that were sold on the market.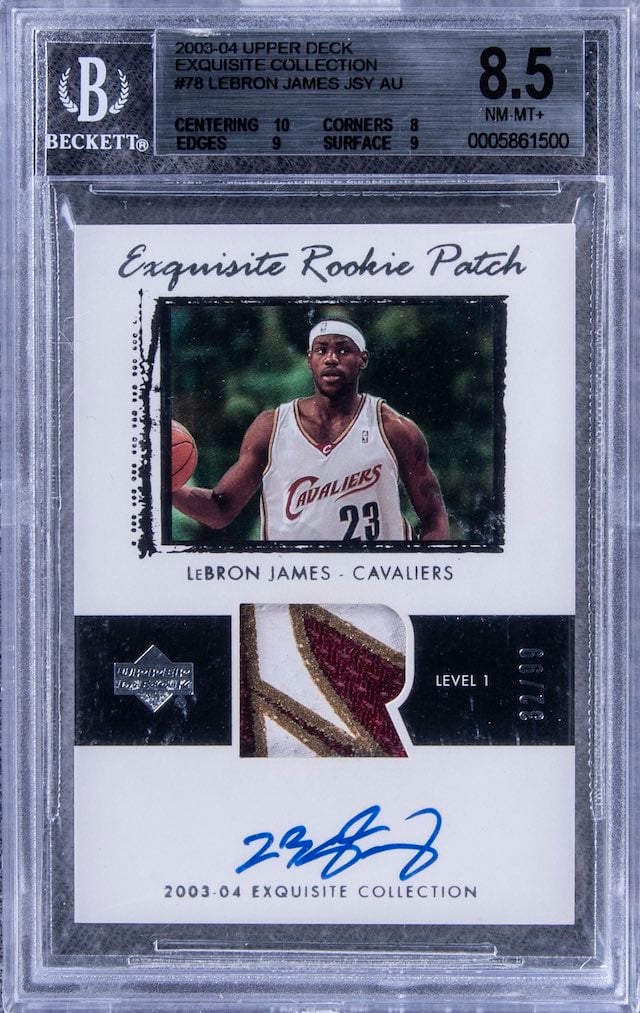 Photo credit: GoldinAuctions/Twitter
LeBron James (2003-2004, Upper Deck Exquisite Collection Rookie Patch Autograph #78)
The LeBron James rookie card was sold for $1.5 million (that's around 71 million pesos)! With a grade of 8.5, the autographed card was not even in mint condition. We're not surprised though because King James is one of the best players in the league. The rare card is part of Upper Deck's Exquisite Rookie Patch collection from the 2003-2004 season, featuring the talent-stacked rookie class of 2003—you know, the very same batch that had LBJ, Dwayne Wade, and Carmelo Anthony?
READ: Carmelo Anthony is dropping a memoir, talks about his tough upbringing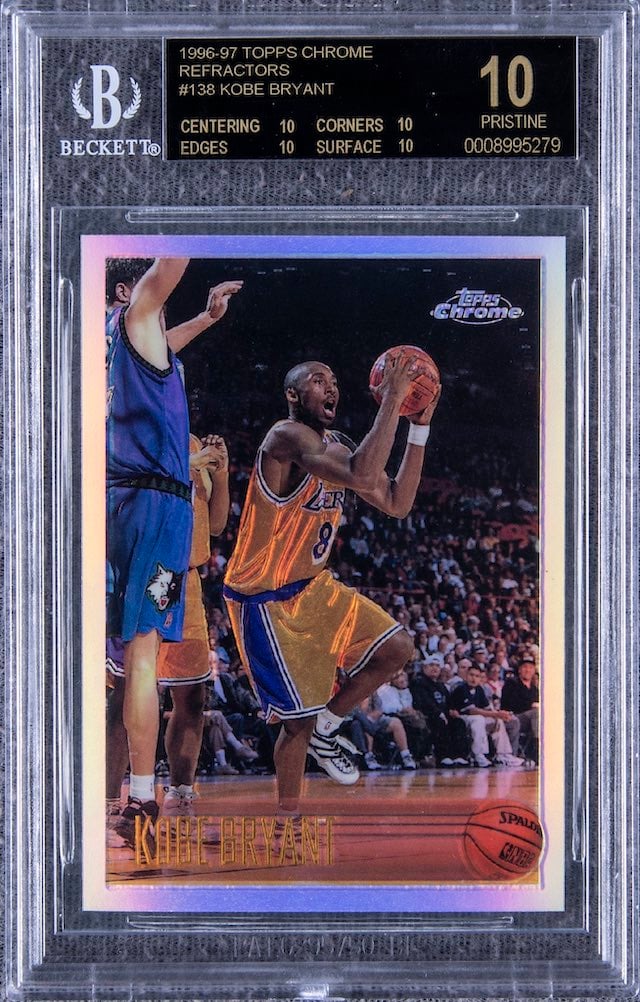 Photo credit: GoldinAuctions/Twitter
Kobe Bryant (1996-1997, Topps Chrome Refractors Kobe Bryant Rookie Card #138)
The late Kobe Bryant will always be one of the most enigmatic superstars that the NBA league has ever seen. Mamba's popularity reigns supreme as his rookie card was also sold for a hefty price of $1.7 million (that's over 81 million pesos). This particular purchase set the record for the highest sale of a Kobe Bryant card. Goldin Auctions described the card as "just one of two in the world at its level of perfection."
Kobe's card was in mint condition, receiving perfect 10s from the Beckett Grading Services. It even qualified for the prestigious black label recognition, which is the cream of the crop—just as Black Mamba deserves.
READ: Mamba and Mambacita forever! Remembering the life of Kobe Bryant and his daughter Gianna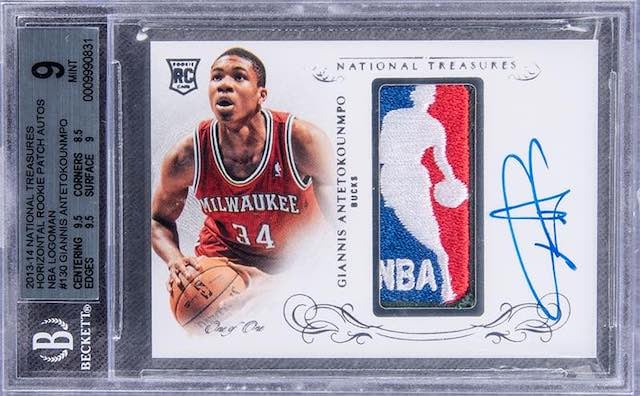 Photo credit: fivecardguys/Twitter
Giannis Antetokounmpo (2013-2014, Panini National Treasures Logoman Patch Autograph #130)
When the Greek Freak rose to become one of the best players in the league, his trading cards suddenly soared in prices as well. An autographed Giannis patch rookie card was sold for $1.8 million (that's around 86 million pesos). The card even had a funny backstory to it: The original owner reportedly sold it back to its Ebay seller in 2014 simply because it had a yellow stain on it. Years later, it became one of the most expensive NBA cards ever sold. Talk about a missed opportunity!
READ: Steph, Dame, Giannis, and the rest of Team LeBron dominate the NBA All-Star weekend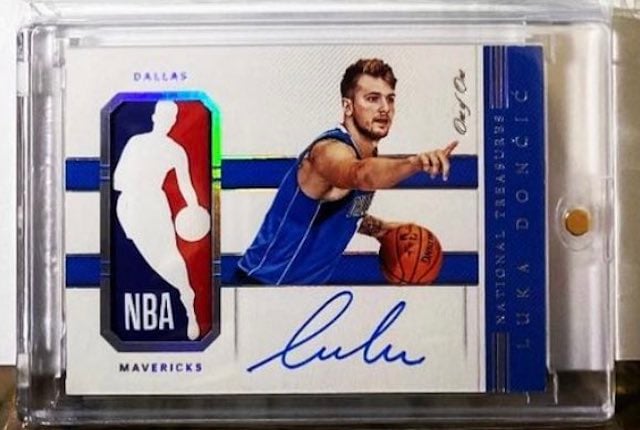 Photo credit: Darren Rovell/Twitter
Luka Doncic (Panini National Treasures 1 of 1 Logoman Autograph)
It didn't take long for Dallas Mavericks superstar Luka Doncic to take the NBA world by storm. He's gotten better every year and has amassed a large global following. Aside from plenty of accolades on the court, he also has the highest-selling basketball card in history as of this writing.
Layton Sports Card shop hit the jackpot when they sold a rare, one-of-a-kind Doncic rookie trading card for a staggering $4.6 million (that's over 220 million pesos) last February 2021. That is some life-changing cash right there!
Collector Nick Fiorello reportedly made the record-breaking purchase during a private auction. The Doncic card also ranks in second place for being the most expensive sports trading card ever sold in history. The top spot belongs to Mickey Mantle's iconic 1952 baseball card, which went for $5.2 million (that's around 248 million pesos).
Take a moment to imagine spending all that fortune on just one card.
With the growing popularity of NBA cards right now, we shouldn't be surprised if Doncic's record would be broken before the year ends.
READ: Luka Doncic shares his thoughts on the NBA playoff play-in tourney
What's the most expensive NBA card that you own?